Prepare for electric trucks in 2022. GMC Hummer EV pickup starts at $110,595 for Edition 1 with plans for a range of versions from $80,000 to $1 million. In 2022, the GMC Hummer EV pickup became the newest product from the manufacturer known for its rugged off-road performance - General Motors. Several things changed. The H2 and H3 have been replaced with a sleek and modern aesthetic with a lot more intricate detail. This Hummer is an all new, all electric truck featuring real truck capabilities — like towing and off-road driving.
The GMC Hummer EV Supertruck
The 2022 GMC Hummer EV is the most efficient electric truck in the Hummer model range. The original gasoline-guzzling vehicle from General Motors is making an impressive return as a fully-electric extreme off road pickup and SUV vehicle. We'll start by looking into all of the details about the upcoming 2020 electric truck.
2022 GMC Hummer EV Safety Equipment & Technology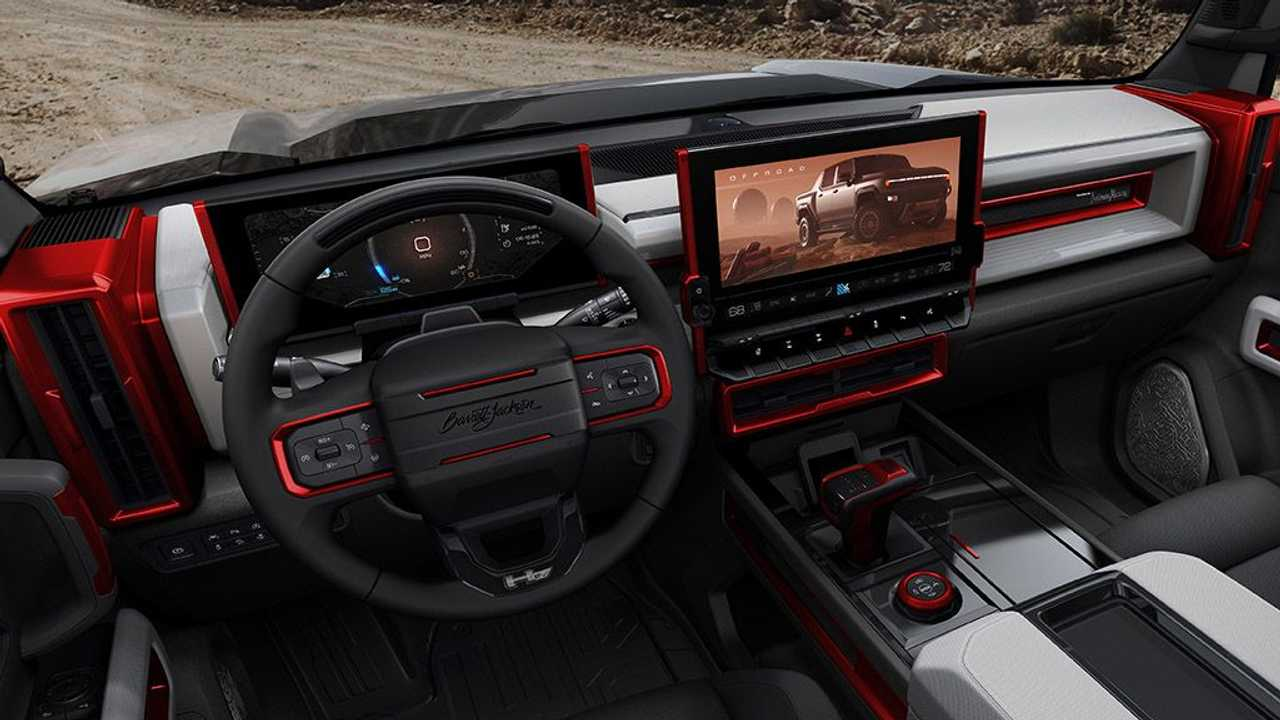 Interior finishes include the latest technologies, designed to provide enhanced off-road performance and an immersive driving experience. GMC's new EV Edition 1 is fully powered. Super cruise provides a cruise control system with updated features designed to improve safety on road conditions.
Driver Assistance
The new driver-assisted car provides hands-free driving, and automatic shifters are available on more than 200,000 miles of compatible roadways. It is available for three-year subscriptions. Ultra Vision4 includes a rear underbody and front camera with virtual spotter viewing for driver assistance as you navigate obstacles.
2022 GMC Hummer EV Crab Walk & Extract Mode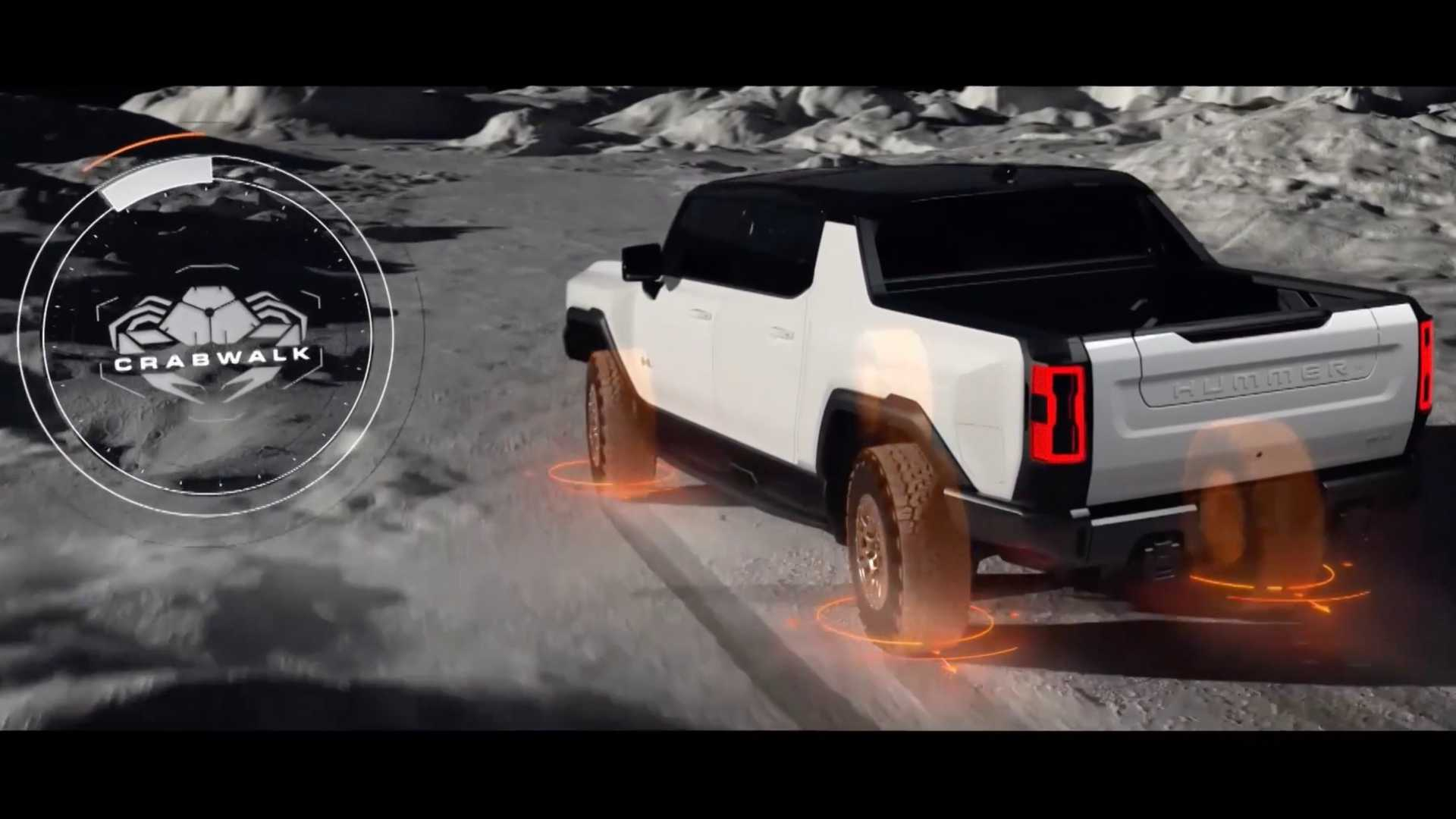 The 2023 GMC Hummer electric truck has generated huge excitement and will make it the ultimate vehicle for many customers. When the Crab Walk is activated, it can override the default non-phase turning at low speeds. It also makes the vehicles run horizontally (just like a crab), and helps better avoid obstacles. This feature can only be activated a low speeds.
The Extract Mode of the 2022 Hummer EV lifts the whole vehicle by 6 inches and allows drivers to navigate rough terrain. It does this by raising the suspension system to six inches and increasing total ground clearance to 15.9 inches. Extract Mode lets Hummer navigate nearly everything, making travel across on and off-road surfaces easy.
Interior, Comfort and Cargo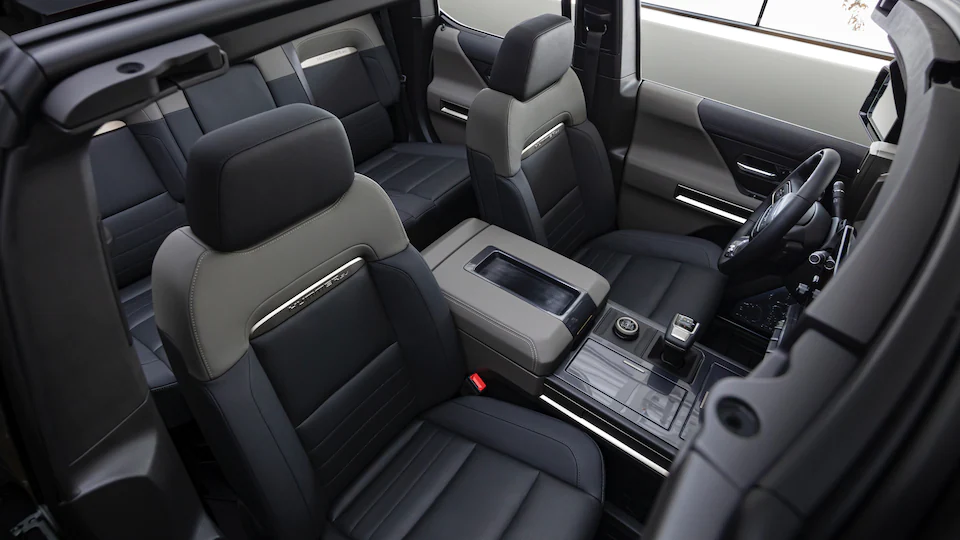 The GMC Hummer EV is a crew car pickup with a 5-foot bed. Materials used in the - front and rear, are better and really match the Hummer's price tag. It does, however, have an interior that is easily opened through an open removable infinity roof that marks the reintroduction of the T-tops popular in the 1970s / 80s. When installed, the opaque panels look similar to a standard panoramic glass sunroof but stowing these into a GMC Hummer EV's rear trunk gives the truck a similar convertible feel to the Gladiator.
2022 GMC Hummer EV Truck Exterior Design & Dimensions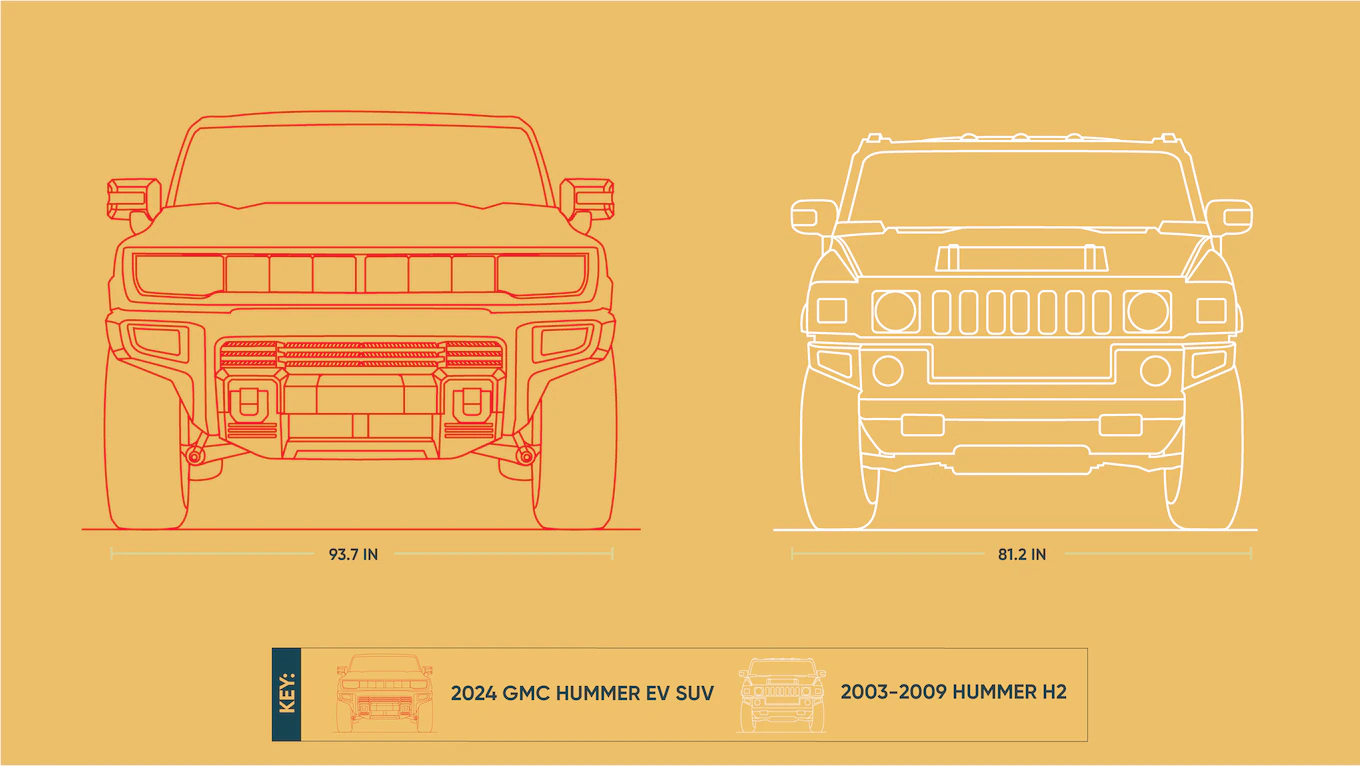 The new all electric truck has a wheelbase measuring 135.7 inches and a maximum width of 2168.1 inches on the exterior. The exterior dimensions are a bit smaller than the gas powered XLT GMC Sierra 1500 Crewcab Shortbox. which measures about 20 m in width. Ground clearance with normal suspension activated is 10.1 inches which outpace the gas powered Sierra 1500's 7.8 inch suspension clearance.
When terrain mode is activated, increases to an 11.9 inch of ground clearance in the front and rear.  When activating the optional Extract mode option, the clearance suspension will move up to 8in when in use and has an air clearance max of 16.8in thanks to its highly capable air suspension.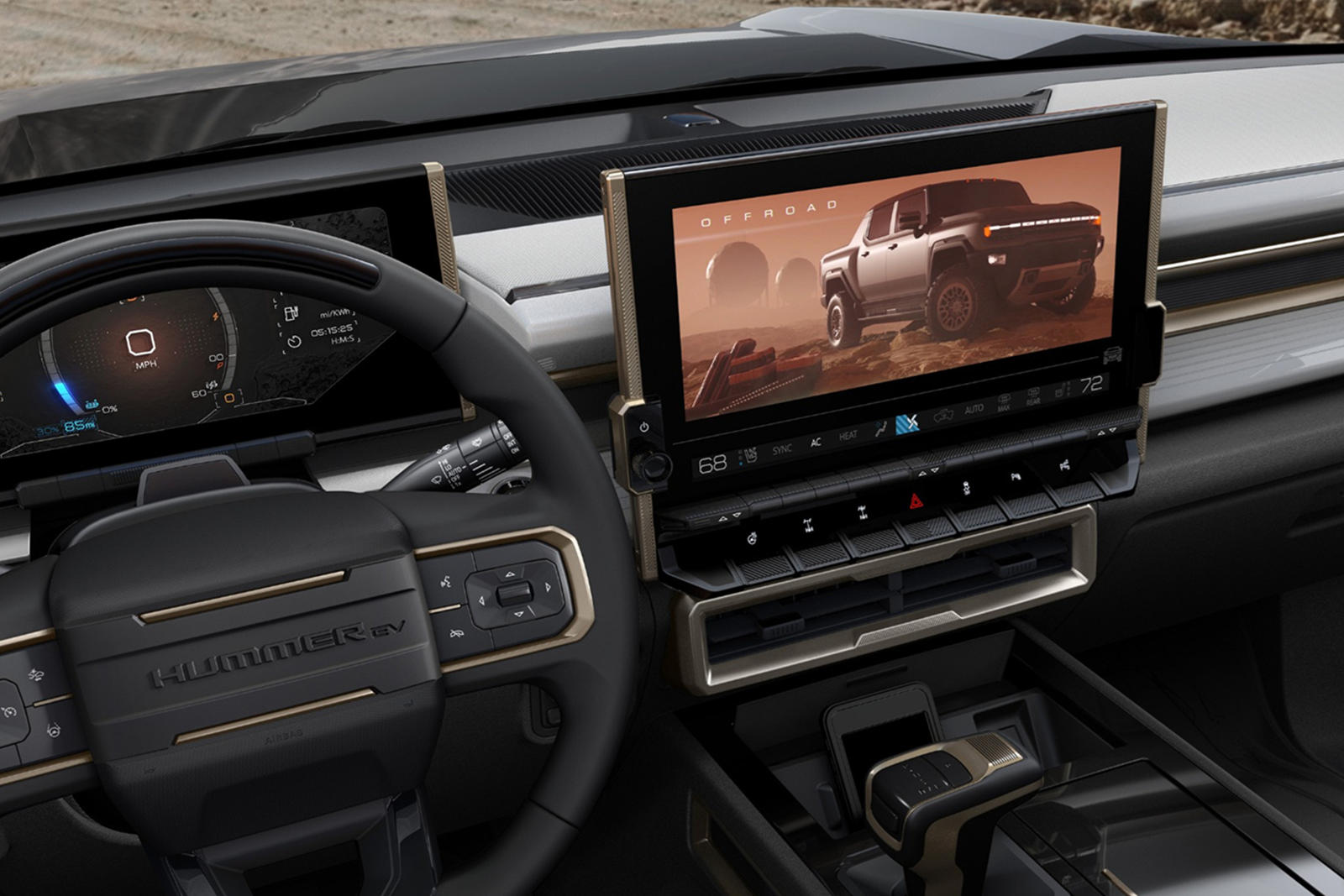 A 13.5 inch LCD screen serves as an interactive display, with an instrument panel of 12.3 inches. Epic Games created the graphics for the new EV's infotainment system. The large screen has excellent image quality, but there was a noticeable lag indicating the system did not use the processing power necessary in a software application. Standard features include Apple CarPlay or Android Auto functionality, a wireless network hotspot, and GM's OnStar phone system.
Electric motor power and performance
The newest Hummer has a single electric motor that can produce 1000 horsepower. All-wheel Drive is standard. In our tests, the new Hummer SUV was able to speed up to 60mph in 3.3 seconds, thanks to the Watts To Freedom Launch Control Drive system. Despite our amazement at the power of the acceleration, it had a disappointing performance on the brakes. It took 211 extra feet for the vehicle to slow down to 60mph. Repeating the run led to noticeable brake wear. Oh yes, the Hummer EV's brakes will need to be replaced more frequently than other similar cars. Perhaps the Watts To Freedom mode should indicate its down-the-line effects on wear and tear.
Range, Charging and Battery Life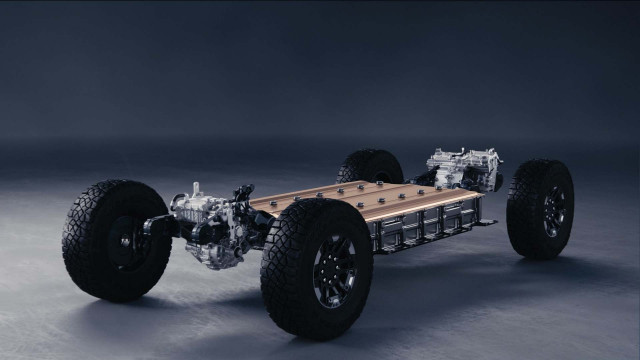 The battery pack is from GM's widely touted Ultium platform, which provides an expected 429 miles of range on a single charge. Our range test reached 290 miles at 78 mph. The GMC Hummer EV has an 800-volt electrical technology that provides fast charging capability and 250 kW of power to the electric motors that the manufacturer estimates would add 100 miles of range in only 10 minutes. For customers with limited DC outlets nearby, the Hummer EV's Ultium battery is also able to charge in a common public charger via an adapter provided in the car.
2022 GMC Hummer EV Truck: Range, Charging, Battery
The GMC Hummer EV uses an ultra-high capacity Ultium battery pack that offers an estimated 300 miles of range on a single charge. Its 800-volt power structure with fast-charging power of 350kilowatts enables the vehicle to reach 100 miles of travel within 10 minutes which is approximately 60 km.
2022 GMC Hummer Truck Price and Trim Levels
How much does the Hummer truck cost? Starting price of GM's new Hummer EV is $89,990 MSRP. The cheapest model is the Edition 1, which starts at $110,295 MSRP and is available for purchase. This list of all trim levels available for the Hummer is Hummer EX, Hummer EV 2X, and Hummer EV3X. Availability for the additional trim options is slated for Spring 2023.
Which GMC Hummer EV Pickup to Buy?
The Humber EVs 6-figure pricing includes many of the best features that the EV offers, such as the adaptive air suspension, the GM Super Cruise hands-free navigation system, adaptive air suspension, watts to freedom, and a 13.4-inch screen. The EV2X and EV2 both feature less powerful dual motor drivetrains and will be available as both SUV and pickups in 2024 and 2023.
Towing and Load Capacity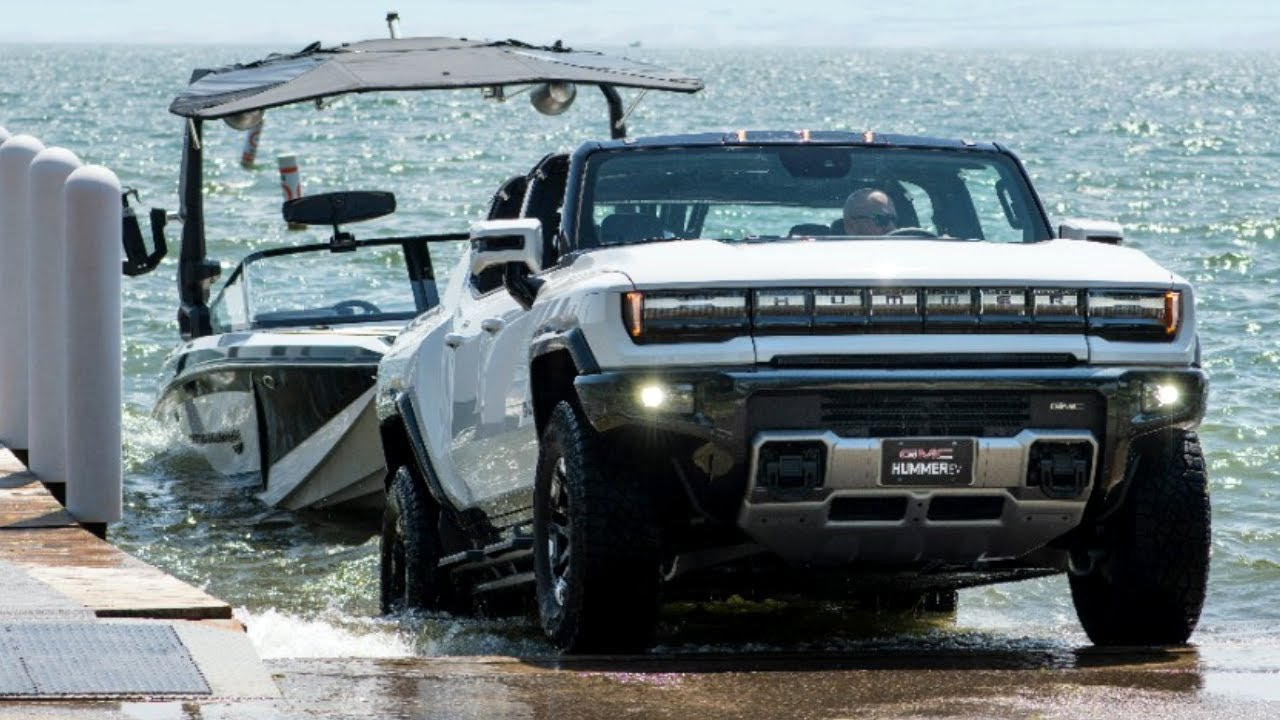 Speaking of towing and payload, the GMC Hummer EV is capable of pulling 750 kg. It's a fraction less than other electric pickup vehicles such as the Rivian R1t and Ford F 150 Lightning, which weighs 11,000 kg and 5000 pounds respectively. During our test pulling an 8100-pound double-axle camping trailer, our Hummer EV's driving range decreased from 140 to a 60-mile range meaning its towing capacity is rated for low speeds.
2022 GMC Hummer EV Truck Towing Capacity & Payload Rating
The 2022 GMC Hummer EV truck has an average payload of 946 kg which does not compare to the previous gas guzzling model. It's a non-ICE vehicle that's among the largest non-commercial automobiles in its class. According to a report, the towing capacity of the vehicle could increase to 88,000 pounds in the future. It will then rival the Ford Rally XL and RAM TRX.
Available Power Station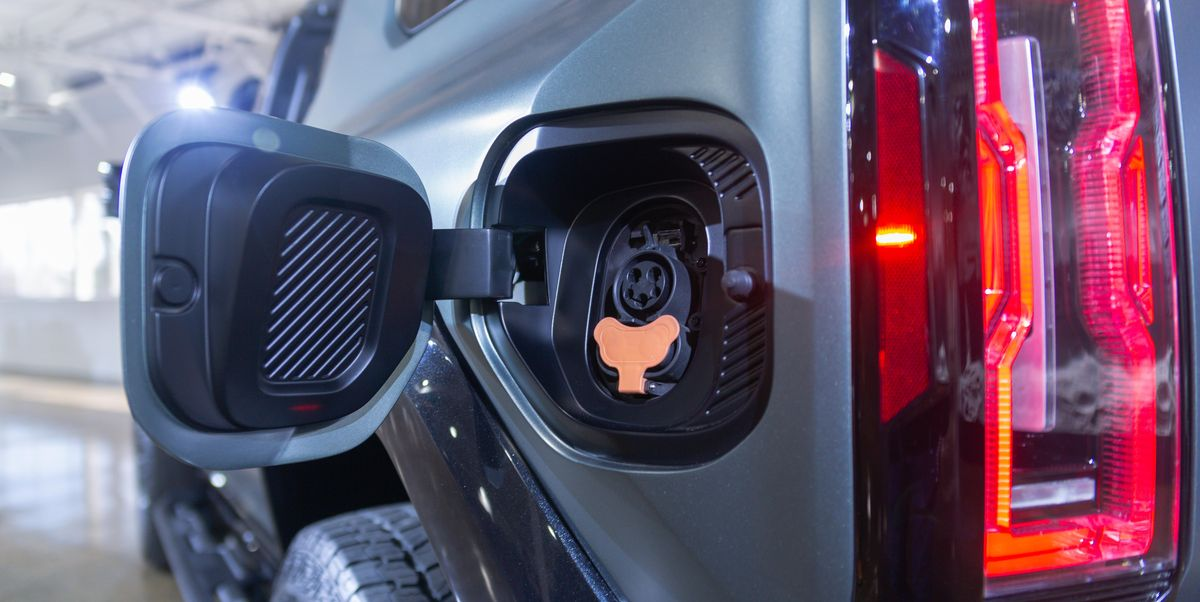 The Hummer EV offers an excellent external power supply to power the equipment you bring along on your adventures and extreme off road fun. The Hummer EV offers an 18.2kW charging capacity and can jump charge another electric vehicle with 240V/ 25A/6K and charge many other equipments at 12V/25A/3kW.
2022 GMC Hummer EV Truck Powertrain: Horsepower & Torque
If all the bells and whistles aren't enough, GM's new Hummer EV will have 1,000 horsepower with a total weight of 11500 pounds. It's the highest torque rating of the sort in the world today. The GMC Hummer EV has a four-speed electric motor which translates to 260 horsepower per axle, giving it the well-deserved 1,000 horsepower and torque.
Fuel Economy and Real-World MPGs
It's estimated that EPA fuel-efficient cars should travel 50 mpg in the city and 44 mpg on highways. Compare that to the Rivian R1T which does 73 and 66 respectively. For information on the fuel-saving performance of Hummer electric vehicles, visit the official website.
2022 Hummer EV Pickup Truck Official EPA Rating
According to the EPA filings, the Hummer will achieve a 329 mile range EPA combined rating, consuming electricity at 47 MPGe EPA combined, some 33 percent less than the Rivian R1t's 70-MPGe rating.
2022 GMC Hummer EV Truck Release Date
GMC has released its 2022 Hummer EV Truck and it features an Edition 1 model with a price that is sure to get more expensive. Reservations can take place for any given trim level. However, the slots have already full thanks to their high popularity.
2022 GMC Hummer EV Truck Interior
The exterior layout for this EV truck is incredibly clean and unquestionably Hummer. Overall, the new Hummer is improved with "excellent, well-crafted and luxurious interiors," according to GMC manufacturers.
Safety and Driver Assistance Features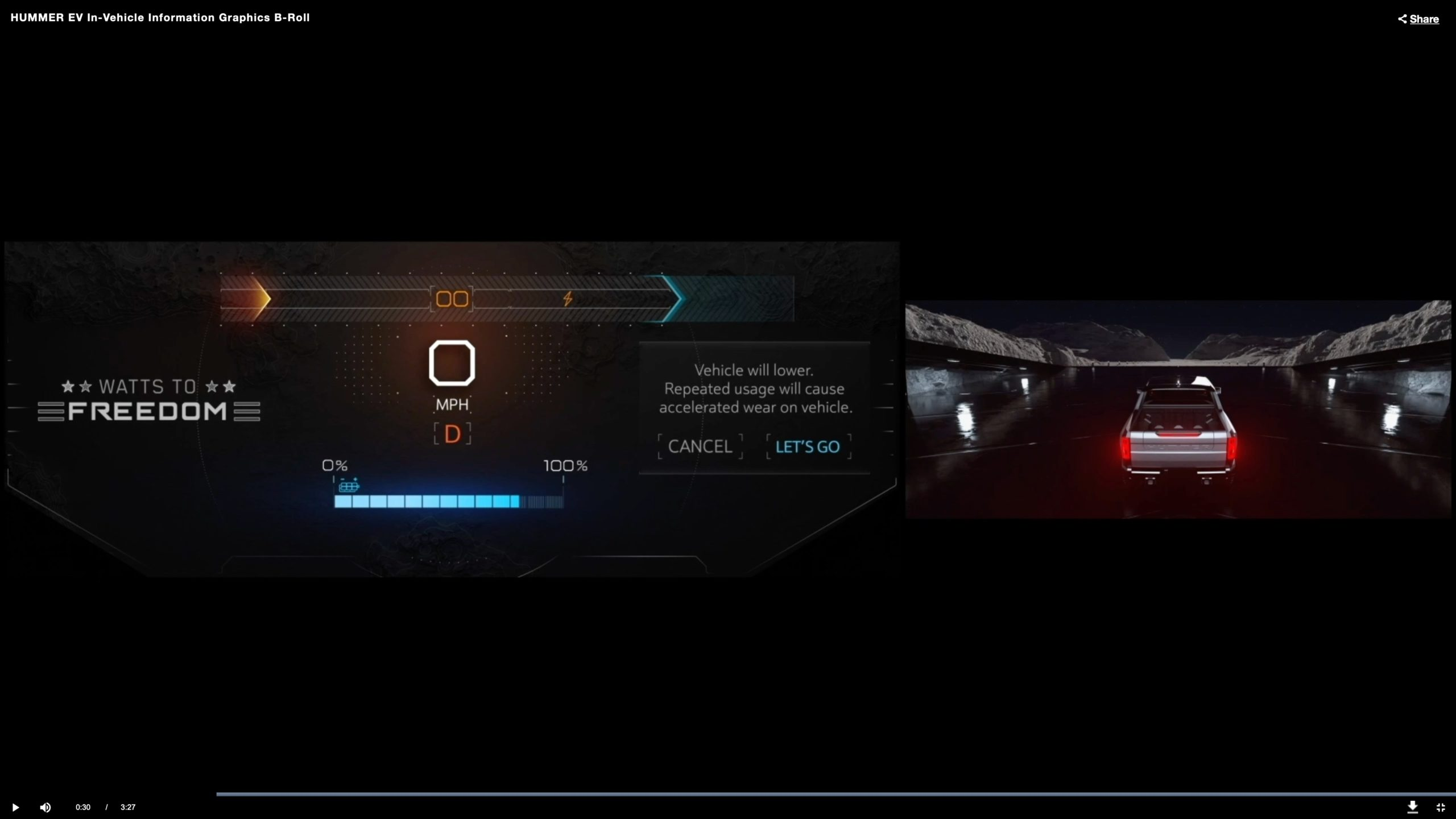 The Super Cruise Hands-Free Drive Mode from GM has been widely used. The software is not as advanced as Tesla's Autopilot.
Infinity Roof With Modular Sky Panels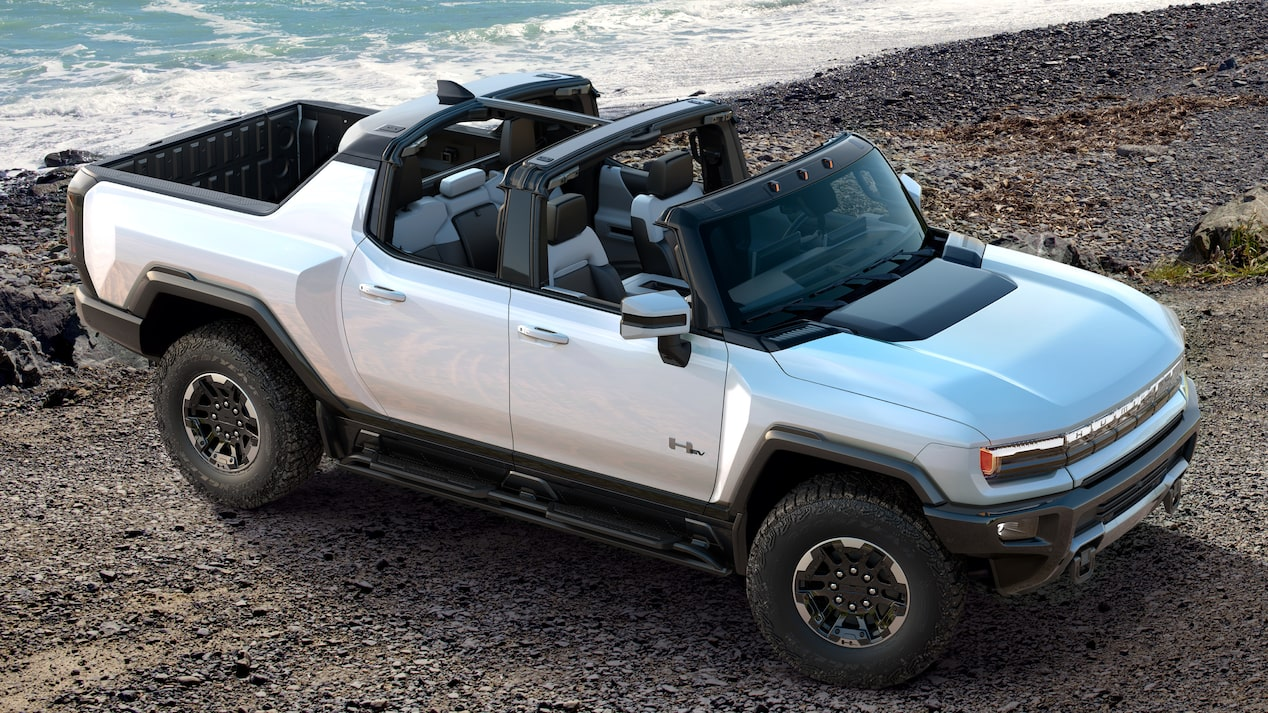 Infinity Roofing and Transparent Sky Panel offer immersive indoor experiences. Bring in the world by removing the panels and front I-Bar and lowering the power rear drop glass.
Super Cruise Feature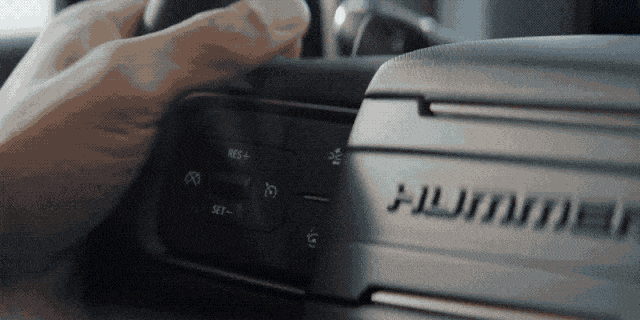 HUMMER's newest version of the Super Cruise is equipped with Driver Aid Technology mode and Automatic Lane Shifting. It has this capability for up to 200,000 miles of roads and the network continues to expand and grow. HUMMER electric vehicles offer a three-year subscription for the Super Cruise feature.
BOSE® Audio System
The Bose 14 Speakers Audio system featuring Centerpoint® and Electric Vehicle Sound Enhancements (EVS) systems create multi-sensory experiences specially adapted to the HUMMER EV's cabin.
Transparent Sky Panels
HUMMER EVs transparent roof sky panels offer an incredible panoramic view of all angles.
Specially Engineered 35" Tires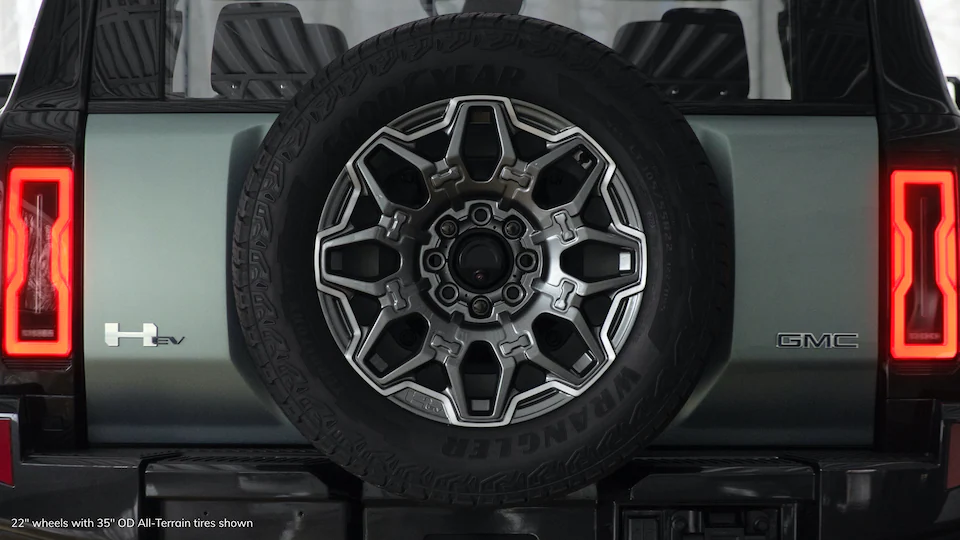 It begins with a towering ground clearance created using special 35" Goodyear Territory tires. Visible weather conditions, as well as roads, may influence performance.
Revolutionary Design
The GMC HUMMER EV incorporates distinctive styling cues, including distinctive front lighting in the hood, low-profile roof, upright windows, and unique tail lights.
Ultravision Capability
The Hummer EV's UltraVision offers up to 18 front and rear camera views on pickups and 17 front and rear camera views on SUVs, giving the vehicle an HD Surround Vision. It is also waterproof and provides forward/rear-view cameras under the body. A washer function and removable lens protector help provide clear vision.
Gorgeous Interior
The cabin was designed to be a perfect combination of convenience and innovation. Whatever the harshness of the outdoor world can be, inside the GMC HUMMER EV pickup is sure to be an enjoyable experience.
Lunar Horizon Interior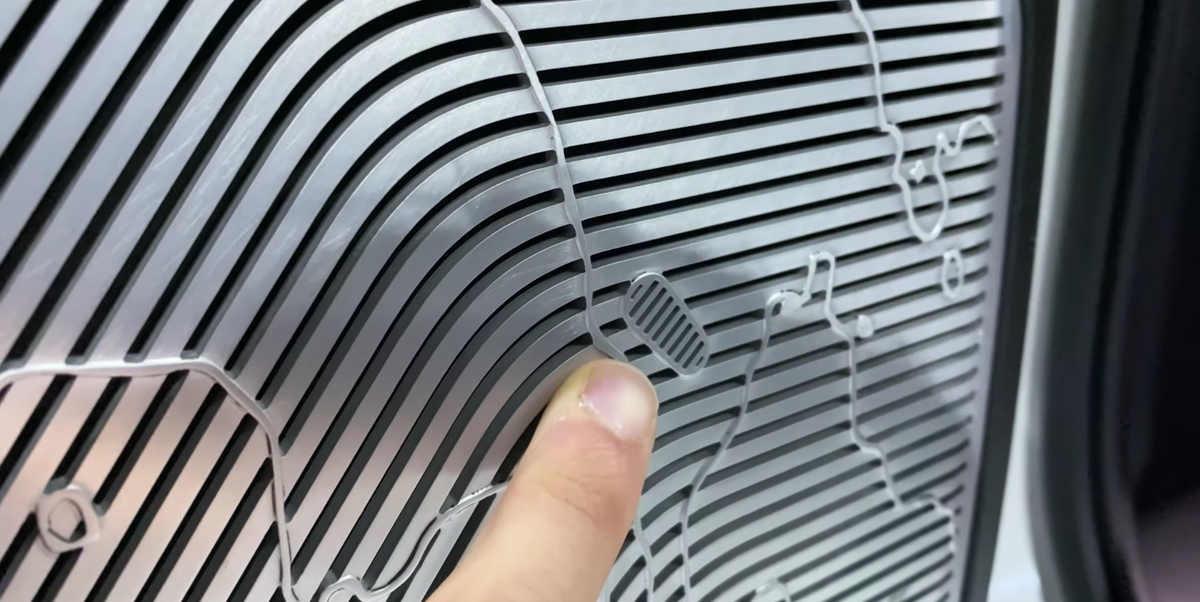 The Lunar Shadow interior available in Jet Black and Taupe gives the interior a dark appearance and is enhanced with tech bronze accents. Durable flooring offers aesthetic appeal in a variety of weather conditions.
An exterior designed to take off-road challenges
The components on the exterior of the Hummer EV pickup are designed for tougher environments.
What about the Tesla Cybertruck?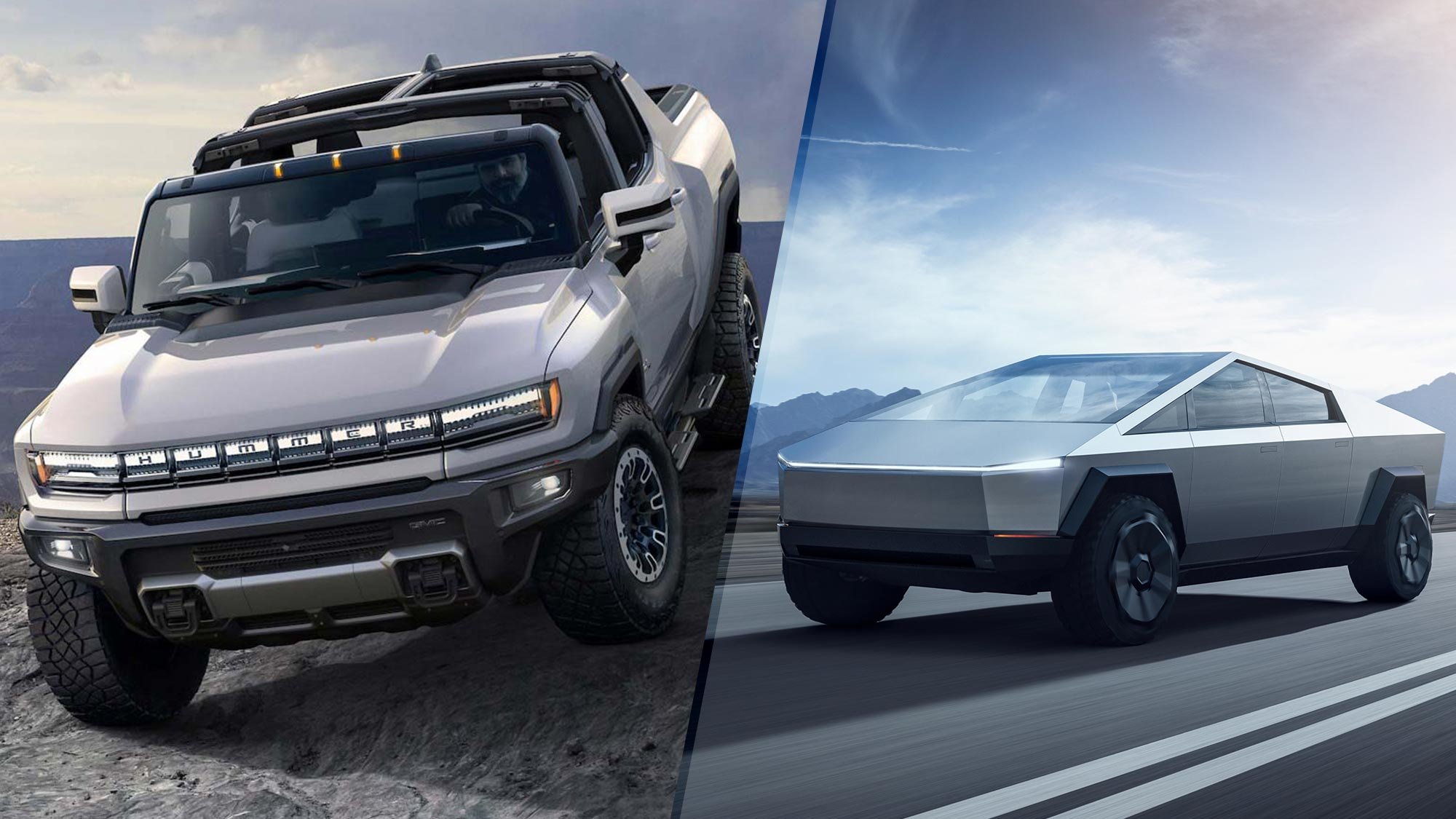 The Tesla Cybertruck has been the new electric vehicle that we are all anxiously awaiting. In the world of Tesla fans and electric vehicles, it is all anyone wants to talk about. In fact, people are so excited for the new Tesla Cybertruck to debut that you just might be asking yourself "Why is the Tesla Cybertruck so unique?"
Let's discuss why the Tesla Cybertruck is so unique and what all the hype is about.
Tesla Cybertruck …almost the first electric pickup truck. 
When Elon Musk announced the Cybertruck in 2019, the number of pre-orders instantly skyrocketed and the excitement and buzz around the product was so high because Tesla had never before created a pickup truck before, let alone one that was fully electric. Actually, at the time, no one had ever released a fully electric pickup truck. That is, until Rivian did (before the Tesla Cybertruck was able to be produced and released). 
The exterior design of the new Tesla Cybertruck
One of the most eye-catching aspects of the new pickup truck from Tesla is the exterior design of the vehicle itself. Made up of an "exoskeleton" of stainless steel, the Tesla Cybertruck is unique in that it can't really be painted or have its color changed unless you wrap it.
Angles are sexy
The truck is very angular and looks very modern and futuristic, almost like a spaceship. With such an out-there exterior design, the Tesla Cybertruck is definitely unique!
Inspiringly unique
There are other aspects of the Tesla Cybertruck that make it unique, such as its penchant for innovation and making improvements to existing products. Another product that makes these changes and includes a similar design to the Tesla Cybertruck is the CyberBrands Cyberbackpack. Learn more about the Cyberbackpack here. 
5 exceptional features of the Tesla Cybertruck you might not know.
Tesla has just unveiled its new electric semi-truck, called the "Cybertruck". The prototype has a 500-mile range which is more than the Hummer Edition 1's 350 miles of range. The Cybertruck can go from 0-60mph in 2.9 seconds and has four-wheel drive. It has been in production since November 2017.
What we know
Tesla is looking to have this truck on the road by 2023. This truck is a step in the right direction for sustainable transport and could potentially be a replacement for diesel trucks that pollute our environment. The company also claims that its electric trucks are safer because their designs include fewer blind spots and more room to maneuver than traditional trucks.
Tesla Rodeo
A few days after being on exhibit at Tesla's Cyber Rodeo, the new Tesla Cybertruck is once again making headlines. This is due to several updates that have been made, some of which are excellent, while others may leave you perplexed. The Tesla Cybertruck's most recent changes may make you love it or loathe it, depending on how you feel about it now. Here's the list of 5 exceptional features of the Tesla Cybertruck you might not know:
No door handles

New tires

Yoke steering wheel

Single blade windshield wiper

Unbreakable Design

Bulletproof Windows
No door handles
At first, it may seem strange for a car to lack door handles. After all, how else would you get in? However, when you consider the unusual design of the Tesla Cybertruck and its mastermind, Elon Musk, it's not quite as surprising. The Tesla truck already resembles a spaceship, so the fact that it will automatically open when you approach it is surely nothing out of the ordinary.
New tires
The Tesla Cybertruck originally had enormous tires that resembled those of a science-fiction spacecraft, which is what the Tesla truck represents. However, the tires now appear remarkably subdued, much like tires on any other large truck. You can tell by the tread that these new tires are made by Goodyear and are designed specifically for Cybertrucks. The tires of the Tesla truck also have the following ratings: 315/60R20 and E load.
Yoke steering wheel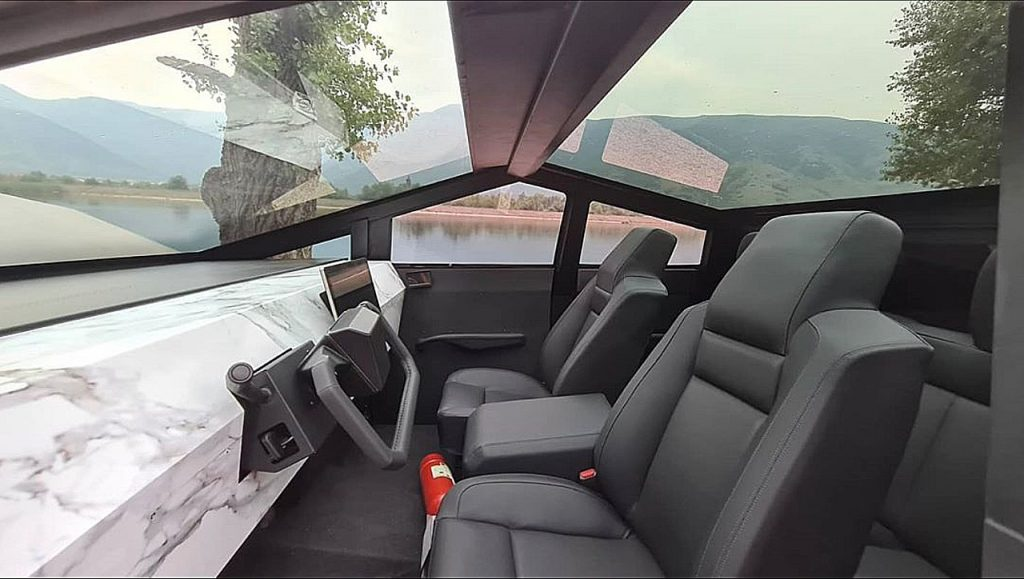 The Cybertruck prototype, which Tesla unveiled in 2019, has a butterfly steering wheel, or what Tesla refers to as a "yoke" wheel. It might indicate that the new steering wheel will be much better than any other steering wheel, as Elon Musk stated that the Tesla Cybertruck will be a "technology bandwagon."
Single blade windshield wiper
The Tesla Cybertruck windshield wiper has lately garnered considerable attention. It was not surprising to find one on the Cyber Rodeo Cybertruck prototype. There it rested, a solitary long blade facing a massive windshield. Or perhaps it's the enormous windshield wiper. Regardless, the Tesla Cybertruck windshield wiper is just as distinctive as the Cybertruck itself.
Unbreakable Design
Of course, you have heard that the Tesla Cybertruck is bulletproof and can withstand 9 mm bullets! But did you know that Tesla Cybertruck glass is also armored glass?
Bulletproof Glass
Tesla Armor Glass is an indestructible glass that is paired with a polymer-layered combination. It can absorb and redirect impact forces to increase performance and damage tolerance. However, at the launch, when Musk overconfidently calls a volunteer and asks him to throw an aluminum ball at the glass, it didn't go as expected. The throw almost shattered the armored glass, but Musk is Musk! He recovered from that failure in instant. He states, "It didn't go through it, right?". However, the final product is yet to come.
How long is the wait for Tesla Cybertruck?
We have all been waiting what feels like decades for the arrival of the Tesla Cybertruck, but actually it has only been just under three years so far. However, with the difficulties that Tesla has had with scheduling production of the new and innovative electric pickup truck, the wait for the Tesla Cybertruck continues. 
So, how long is the wait for the Tesla Cybertruck? Let's break down the many production schedule changes that Tesla has made to the schedule of the Tesla Cybertruck's release. 
First Major Missed Deadline
When the Tesla Cybertruck was first announced and pre-orders had begun, the first deadline that Tesla had set for the production of the Tesla Cybertruck was very quickly missed. With the 2020 COVID-19 pandemic and other internal issues at Tesla, the Cybertruck missed its original deadline of release at the end of 2021. 
Second Major Missed Deadline
The second major deadline that the Tesla Cybertruck was unable to make actually happened quite recently. Up until the last few months, Tesla still fully intended to begin production and release the Tesla Cybertruck at the end of 2022. However, with the move to Gigafactory Texas and issues with production there, the Tesla Cybertruck will not be able to be produced according to this deadline. 
Current Schedule
Most recently, Elon Musk has proclaimed that mid-2023 is to be the new deadline for the Tesla Cybertruck's release. By this schedule, we will only be waiting about one year longer until we start to see Tesla Cybertruck models hitting the roads!
Conclusion
If you are sick and tired of waiting to get your hands on your Cybertruck, you may want to consider looking into Tesla-inspired products such as the Cyberbackpack. Learn more about the Cyberbackpack and its incredible capabilities at www.cyberbackpack.com.