Order today and get up to $70 of gifts:
✅ FREE 4000mAh Power Bank
✅ FREE Dust Bag
✅ Upgrade to 2-Day Shipping
✅ VIP Protection Plan (12 Month Warranty)
Protect Your Gear with our Anti-Theft Camera Backpack | CyberBackpack
Pre-Order Now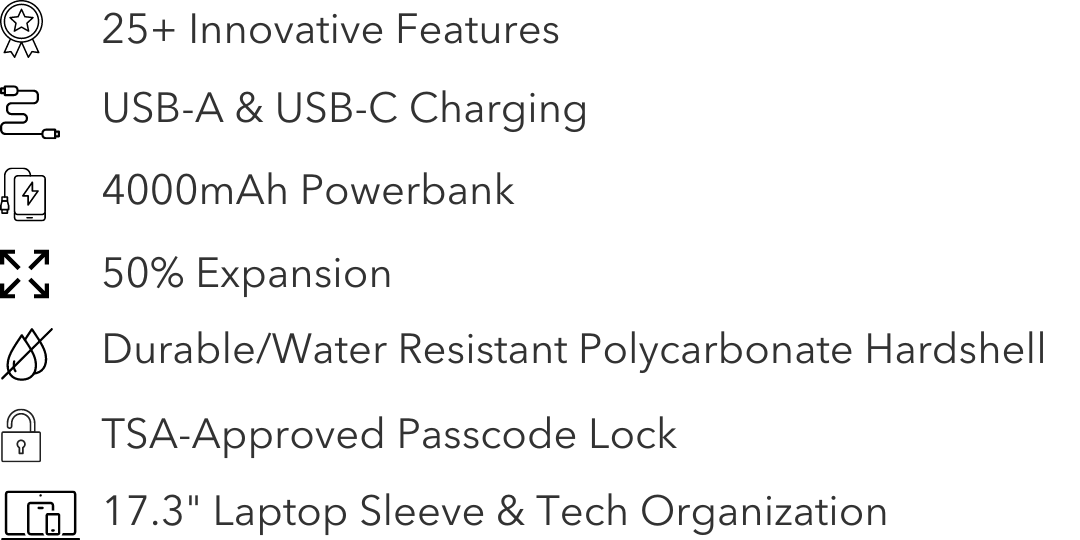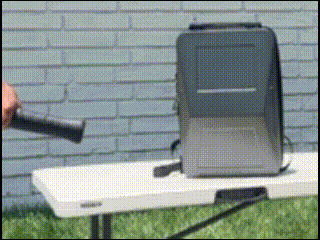 Description
Unleash Your Photography Potential in Style and Security. Designed exclusively for photographers and photography enthusiasts, this backpack combines sleek aesthetics with unmatched functionality.
With features like a dedicated padded compartment for your camera gear, adjustable dividers for customizable storage, and quick side access, capturing those perfect shots has never been easier. Not only does it cater to your photography needs, but it also safeguards your data with an RFID signal-blocking pocket, ensuring your valuable information remains secure.
Elevate your photography adventures with the Cyber Camera Backpack and enjoy the perfect blend of style, convenience, and data protection.
Exterior: 18.5 inch (Height) x 12 inch (Length) x 6 - 8 inch (Width)
Weight: 2.9 lbs
Expanded Volume: 26.4L
Laptop Max Size: 17.3 inches
Materials: The Cyberbackpack hardshell exterior is made from polycarbonate and chromophore mixed in a special ratio for superior strength, durability, and water resistance.
LARGE CAPACITY & ORGANIZED: This 26L large backpack has a large spacious compartment - one separate laptop compartment fits a 17.3-inch laptop. The main compartment is roomy for daily necessities, such as notebooks, portable chargers, iPad, etc. And the front compartment has a zipped pocket to keep your things organized and easy to find. 
TSA PASSCODE LOCK: This checkpoint-approved passcode lock system allows you to securely protect your belongings while also giving TSA access if needed.
RFID BLOCKING POCKET: Secure Your Data with Peace of Mind: The Cyber Camera Backpack features an RFID Blocking Pocket, keeping your sensitive information and valuables protected from unauthorized scanning and digital theft. Explore the world with confidence, knowing that your data is safe and secure wherever your photography journey takes you.
CAMERA AND LENSE DIVIDERS: The Cyber Camera Backpack features customizable camera and lens dividers, allowing you to securely store and easily access your equipment. Keep your gear in perfect order and ensure every shot is within reach with this essential feature for photography enthusiasts.
USB CHARGING: This checkpoint-approved charging system allows you to conveniently charge while traveling and enjoy music or social media at any time. The USB charging plug just offers easy access and a hands-free way to charge.
COMFORTABLE & STURDY: The Cyberbackpack comes with a comfortable airflow back panel design with soft ventilated padding. This gives you maximum back support and is breathable. The adjustable shoulder straps relieve stress from the shoulders while carrying the backpack. The foam padded top handle is soft and designed for a long time carry.
DURABLE MATERIAL: The Cyberbackpack is made of water-resistant and durable materials. This ensures secure & long-lasting usage every day. This is perfect for business traveling, weekend getaways, shopping & outdoor activities of daily life, especially with your Tesla Cybertruck.
Battery: A Powerful 4000 mAh Lithium-ion Polymer Battery Type that Can Charge an iPhone 10 up to 3 times.
Connector: Type-C and Type A
USB Connectivity: This comes with a USB Type-A port to charge smartphones, tablets, MP3 players, digital cameras, or other devices that are powered by USB.
Dimension: 4.3 x 2.8 x 1.2 Inches
Weight: 0.6 lbs
Brand: CyberBackPack.com
USB Compatibility: The USB Type C charging technologies give virtually all USB-C and USB-A powered devices a super-fast power boost, for YOUR iPhone, Samsung, iPad, or Android devices.
Device Compatibility: IPad Pro 2021/ iPad Pro 12.9/ iPad Pro 10.5/ iPad Pro 11/ iPad mini/ iPad Air, MacBook Air 13''(2018)/MacBook 12''/ MacBook Pro 13''/ MacBook Pro 15'', Samsung Galaxy S21/ S20/ Note 20/ S10/ S10e/ S10+/ S9/ S9+/ S8/ S8+/ Note 9/ Note 8/ Huawei P10/ Mate 9/ Mate 20X/ Mate 20 Pro LG G7 / V30+, AirPods/ AirPods Pro/ MagSafe / Google Pixel/ Pixel 3a/ XL/ 3/ 2XL/ 2, iPhone 13/ 13 Mini/ 13 Pro/ 13 Pro Max/ iPhone 12/ 12 Mini/ 12 Pro/ 12 Pro Max/ iPhone SE/ iPhone 11/ 11 Pro/ 11 Pro Max/ iPhone XS/ XS Max/ XR/ X/ 8 Plus/ 8/ 7/ 7 Plus/ 6/ iPad Pro 2021/ iPad Pro 12.9/ iPad Pro 10.5/ iPad Pro 11/ iPad mini/ iPad Air, MacBook Air 13''(2018)/MacBook 12''/ MacBook Pro 13''/MacBook Pro 15'', Samsung Galaxy S21/ S20/ Note 20/ S10/.
What You Get: 6000mAh CyberPowerBank, an instruction manual, our worry-free 12-month warranty, and friendly customer service (support@cyberbackpack.com).
How do I set up my passcode?
1. Make sure the passcode is set to 000.
2. With a pin or ballpoint of a pen, press and hold down the small button on the far side of the combination lock.
3. With the button pressed down, reset the passcode to your desired code.
4. Release the button and it should spring back in position.
5. Slide the TSA007 lever to unlock.
Does the Cyberbackpack come with a powerbank?
Yes.
You can also purchase an additional (or replacement) Cyberpowerbank separately for your Cyberbackpack. Cyberbackpack also comes with passthrough cables on the inside that allow you to connect your Cyberpowerbank (or own power bank) on the inside of the backpack. This will allow you to plug in your devices on the outside through the charging ports provided and power them up.

*Powerbanks are an optional purchase and need to be added before checkout unless otherwise indicated.
What is your return policy?
You have 30 days after your item is shipped to initiate a return through support@cyberbackpack.com. All returns MUST be in 100% new condition, unused with all the original wrappings and tags in place. Shipping charges are non-refundable.
How do pre-orders work?
As we all know, good things take time! We really appreciate your patience and promise that it's worth the wait. If the item you wish to purchase is for pre-order only, the estimated delivery time will be displayed in the product description section before you add the product cart.
What should I know about your discounted items?
Discounted and sale prices are offered on marked and in-stock items only during that particular sale period and only on the products advertised in that particular sale. We will not refund the sale discount amount on any previous purchases. Sale prices are available whilst inventory permits only. All items marked as final sale are not eligible for any refund or exchange on that particular product. Once it's yours, it's yours! Your order will be shipped when items in your order, including any preorder items, become available to ship.
For all other questions
Get the answers to all other questions in our knowledge base here!
The carbon fiber hardshell provides peace of mind knowing your belongings are well-protected.
The USB charging port and power bank allow you to stay connected and powered up on-the-go.
The passcode lock adds an extra layer of security for your valuables.
The anti-theft pockets give you the confidence that your belongings are safe from potential thieves.
The luggage strap allows you to easily attach the Cyberbackpack to your luggage for easy carrying.
The ultrasoft handle grip ensures a comfortable and secure grip while carrying the backpack.
The breathable and massaging back panel promotes healthy posture and a comfortable wearing experience.
The 50% expandable design allows you to pack more items while still maintaining a compact size.
The extra wide opening allows for easy access to all your belongings.
The 17.3 inch laptop sleeve with laptop straps keeps your larger laptops securely in place and protects it from damage.
The tablet sleeve provides a dedicated and secure space for your tablet.
The padded shoulder straps provide added comfort during long periods of carrying.
The shoulder strap locks offer additional stability when carrying the Cyberbackpack.
The tech organization features allow for easy and organized storage of all your tech gadgets.
The waterproof design protects your belongings from water damage.
The cut-resistant material provides added security against potential theft.
The hidden pockets offer convenient and discreet storage space for your valuables.
The credit card sleeve pocket keeps your credit cards secure and easily accessible.
The iconic modern stylish design adds a touch of sophistication and fashion to your outfit.
The durable and water-resistant design ensures your belongings are well-protected in any weather.
The lightweight design makes it easy to carry around without feeling weighed down.
The internal water bottle pocket provides a convenient and secure space for your water bottle.
The detachable keychain allows for easy access to your keys without having to rummage through the backpack.
ExpandS FOR MORE SPACE
The expandable back panel allows you to pack more clothes, shoes, and gear when needed. When not in use, it can be compressed and zipped up.
Secures your valuables
This secret code lock is a TSA-Approved combination locking system that allows you to lock the zippers to prevent unauthorized access.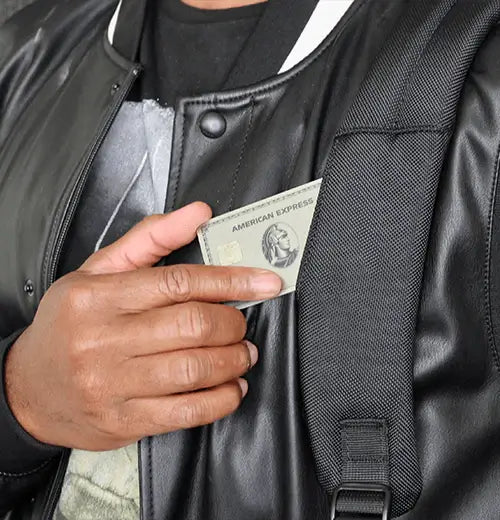 Easy access secret pockets
The quick access pocket keeps important items or travel documents close by and out of sight until needed.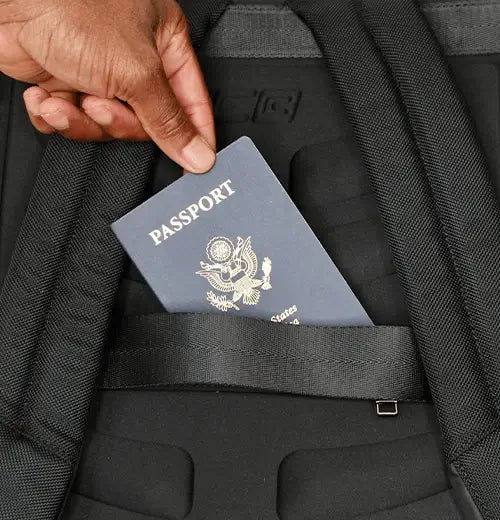 Privacy Pocket for sensitive documents
The hidden pocket keeps important items or travel documents close by and the hidden zipper keeps it safe from unwanted attention.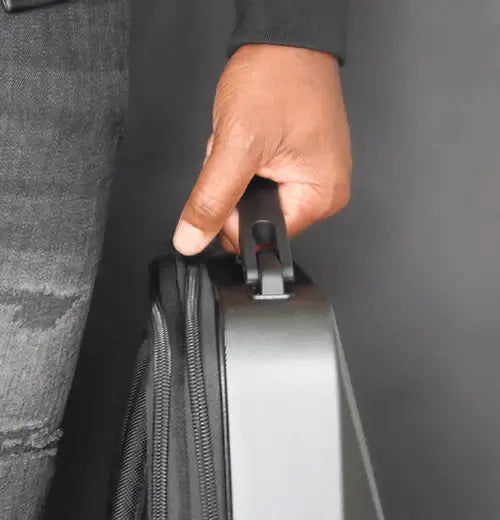 Soft Handle for comfort
The padded rubberized handle allows for convenient one-handed carrying at your side, easy gripping, and handling of the backpack.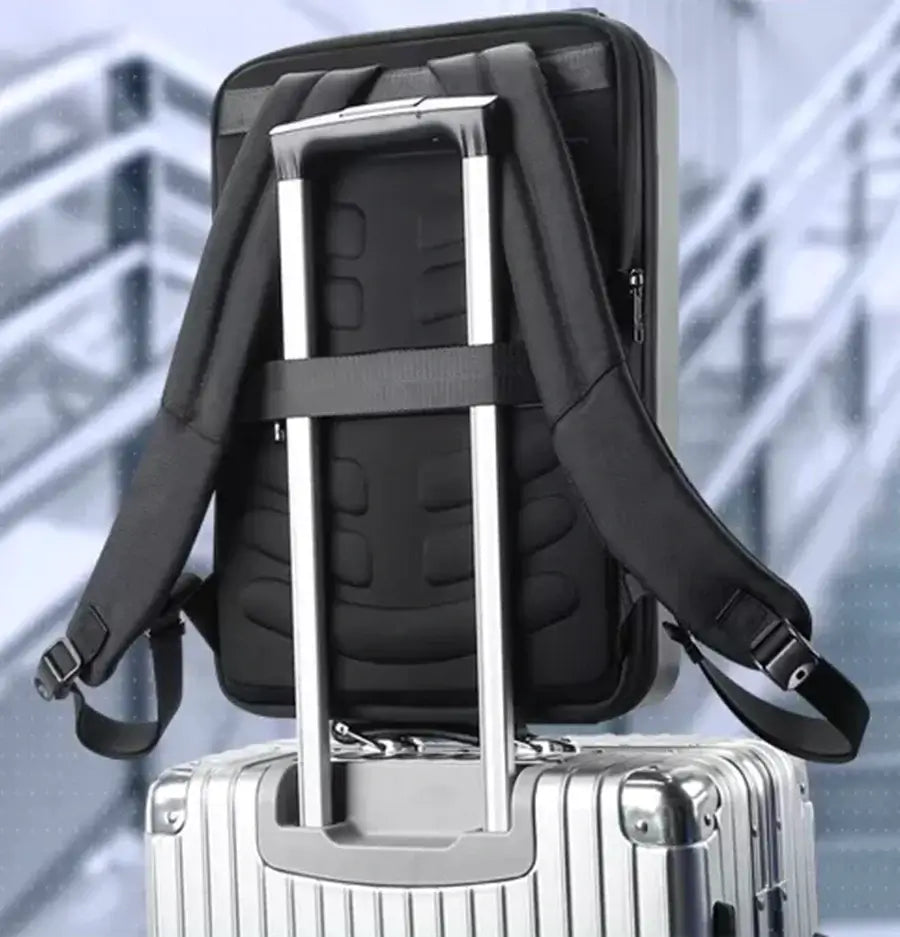 Luggage Strap for easy travel
The luggage pass-through allows you to conveniently strap the travel pack to your luggage handle while traveling with rolling luggage.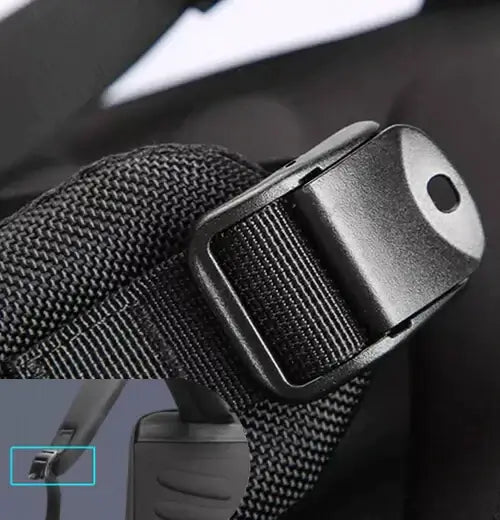 Strap Buckles for convenience
The shoulder strap buckle locks your shoulder strap in place and easily unlocks when you need to adjust it.
The Ultimate Guide to Choosing the Best Backpacks: Tesla, Anti-Theft, Laptop, Cyber, and Hardshell Backpacks
Introduction
Backpacks have become an essential accessory in everyday carry and our daily lives, serving as reliable packing companions for commuting, travel, work, and leisure. With a plethora of options available in the market, it can be overwhelming to select the right backpack that suits your needs and style. In this comprehensive guide, we will explore why Cyberbackpack is the best anti-theft, laptop, cyber, premium best western, and modern hardshell backpack option for Tesla owners and fans. We will dive into their features, benefits, and considerations to help you make an informed decision.
Cyber Backpack - Combining Style and Functionality
Tesla is known for its cutting-edge electric vehicles and EV-related products. These Cyber backpacks are crafted with meticulous attention to detail, combining style and functionality. Often referred to as Tesla backpacks (although not manufactured by or affiliated with Tesla), Cyber backpacks feature durable materials, ergonomic design, ample storage space, and convenient compartments to organize your belongings. They also come with sleek aesthetics, reflecting a futuristic and minimalist design language. Whether you're a Tesla owner or a fan of the brand, a Cyber backpack is a stylish choice for your daily adventures.
Anti-Theft Backpack - Keep Your Belongings Safe and Secure
In today's fast-paced world, security is a top concern, especially when it comes to protecting your valuable belongings while commuting or traveling. An anti-theft backpack is designed with advanced security features to help deter theft and keep your belongings safe and secure. These backpacks typically feature hidden or secret pockets, lockable compartments, USB connectors for charging, and cut-resistant materials to prevent unauthorized access. Some anti-theft backpacks also come with additional safety features such as hardshell polycarbonate impact-resistant cases, locking buckles, and slash-proof straps. If security is a priority for you, the Cyberbackpack anti-theft backpack is a wise choice.
Laptop Backpack - Protect Your Device on the Go
As laptops have become more expensive and an integral part of our daily lives, a safe and secure laptop backpack is essential for those who carry their laptops on the go. These backpacks are designed with padded cushioned compartments or sleeves to securely store and protect your laptop from drops, bumps, scratches, and other damages. Laptop backpacks also offer additional storage space for your accessories, tablets, documents, water bottles, and other essentials. They come in various sizes, styles, and materials to cater to different laptop sizes and personal preferences. Whether you're a student, professional, or digital nomad, a laptop backpack is a must-have for your daily commute or travel needs.
Cyber Backpack - Embrace the Futuristic Style
With the rise of technology and the increasing influence of cyberpunk aesthetics, cyber backpacks have gained popularity among fashion-forward tech enthusiasts individuals. These backpacks feature sleek, modern, and futuristic designs, often inspired by the cyberpunk genre with iconic accents, bold patterns, and unique shapes. Cyber backpacks also offer functional features such as multiple compartments, padded laptop sleeves, and USB charging ports to cater to modern lifestyle needs. If you're a fan of the cyberpunk 2077 trend or simply want to make a style statement and express your love for electric vehicles, a cyber backpack is a trendy choice.