Messenger Bags for Tech Gear - Smart & Stylish Solutions | CyberBackpack
Order today and get up to $100 of gifts:
✅ FREE 4000mAh Power Bank
✅ FREE Protective Sleeve
✅ Upgrade to 2-Day Shipping (US Only)
✅ VIP Protection Plan (1-Year Warranty)
| | | | |
| --- | --- | --- | --- |
| Fits 17.3 Inch Laptop | Built-In Power Bank | Passcode Lock | Perfect For Travel |
Ships within 24 hours.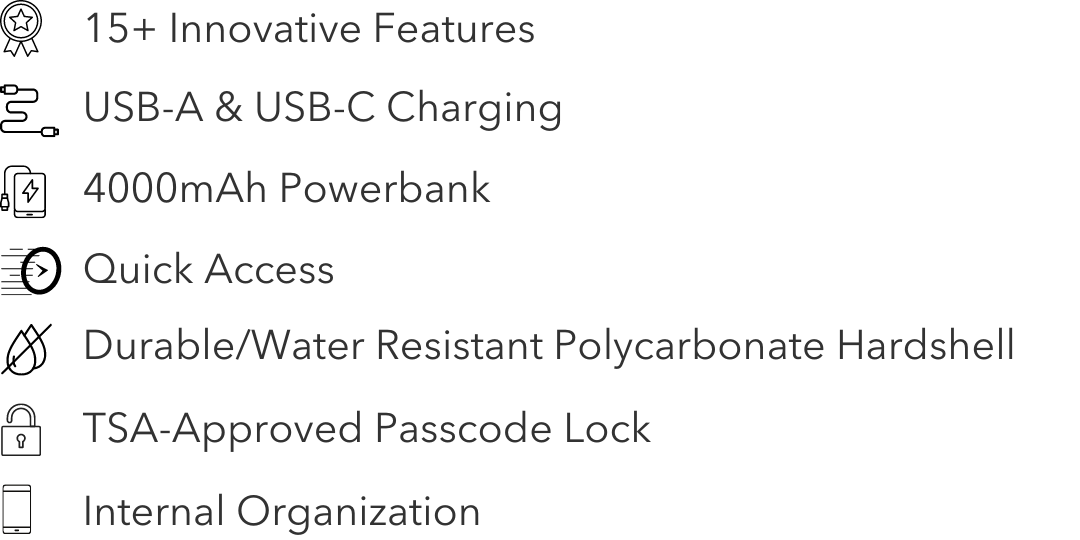 Description
Unleash your tech-savvy professionalism with the Cybersling Messenger Bag. This sleek and compact crossbody bag combines futuristic design with practicality, making it the ideal companion for modern professionals.
Crafted from durable materials with a water-resistant finish and equipped with a passcode lock, your essentials stay protected wherever you go. With ample storage, a padded compartment for your tablet or laptop, and a built-in USB charging port, stay organized and powered up on the move. Elevate your style and functionality with the Cybersling Messenger Bag - the ultimate fusion of fashion and functionality.
We are a US small business and all orders ship quickly for FREE via USPS First Class Mail or UPS Ground, both with Tracking. Your order supports the donation of backpacks and school supplies to kids in need. For 24/7 contact our customer service at support@cyberbackpack.com.
How do I set up my passcode?
1. Make sure the passcode is set to 000.
2. With a pin or ballpoint of a pen, press and hold down the small button on the far side of the combination lock.
3. With the button pressed down, reset the passcode to your desired code.
4. Release the button and it should spring back in position.
5. Slide the TSA007 lever to unlock.
Does the Cybersling come with a powerbank?
Yes.
You can also purchase an additional (or replacement) Cyberpowerbank separately for your Cyberbackpack. Cyberbackpack also comes with passthrough cables on the inside that allow you to connect your Cyberpowerbank (or own power bank) on the inside of the backpack. This will allow you to plug in your devices on the outside through the charging ports provided and power them up.

*Powerbanks are an optional purchase and need to be added before checkout unless otherwise indicated.
What is your return policy?
You have 30 days after your item is shipped to initiate a return through support@cyberbackpack.com. All returns MUST be in 100% new condition, unused with all the original wrappings and tags in place. Shipping charges are non-refundable.
How do pre-orders work?
As we all know, good things take time! We really appreciate your patience and promise that it's worth the wait. If the item you wish to purchase is for pre-order only, the estimated delivery time will be displayed in the product description section before you add the product cart.
What should I know about your discounted items?
Discounted and sale prices are offered on marked and in-stock items only during that particular sale period and only on the products advertised in that particular sale. We will not refund the sale discount amount on any previous purchases. Sale prices are available whilst inventory permits only. All items marked as final sale are not eligible for any refund or exchange on that particular product. Once it's yours, it's yours! Your order will be shipped when items in your order, including any preorder items, become available to ship.
For all other questions
Get the answers to all other questions in our knowledge base here!
Mode: USB anti-theft waterproof chest bag (Note: power bank not optional)
Style: Fashion/Business/Casual/Sport
Exterior: 13.7 inch (Length) x 7.6 inch (Width) x 4.1 inch (Depth)
Weight: 1.4 lbs
Volume: 7L
Materials: The Cybersling hardshell exterior is made from polycarbonate and chromophore mixed in a special ratio for superior strength, durability, and water resistance.
Main Compartment Pocket: Clothes, headset, books, magazine, camera, CD's, etc.
Practical shoulder secret pocket, can store cards, etc.
PORTABLE CAPACITY & ORGANIZED: This 5L crossbody sling has a spacious compartment able to fit an iPad mini. The main compartment is roomy for daily necessities, such as notebooks, portable chargers, light clothing, etc. And the front compartment has two pen sleeves and a slot to keep your things organized and easy to find. 
TSA PASSCODE LOCK: This checkpoint-approved passcode lock system allows you to securely protect your belongings while also giving TSA access if needed.
USB CHARGING: This checkpoint-approved charging system allows you to conveniently charge while traveling and enjoy music or social media at any time. The USB charging plug just offers easy access and a hands-free way to charge.
COMFORTABLE & STURDY: The Cyberbackpack comes with a comfortable airflow back panel design with soft ventilated padding. This gives you maximum back support and is breathable. The adjustable shoulder straps relieve stress from the shoulders while carrying the backpack. The foam padded top handle is soft and designed for a long time carry.
DURABLE MATERIAL: The Cyberbackpack is made of water-resistant and durable materials. This ensures secure & long-lasting usage every day. This is perfect for business traveling, weekend getaways, shopping & outdoor activities of daily life, especially with your Tesla Cybertruck.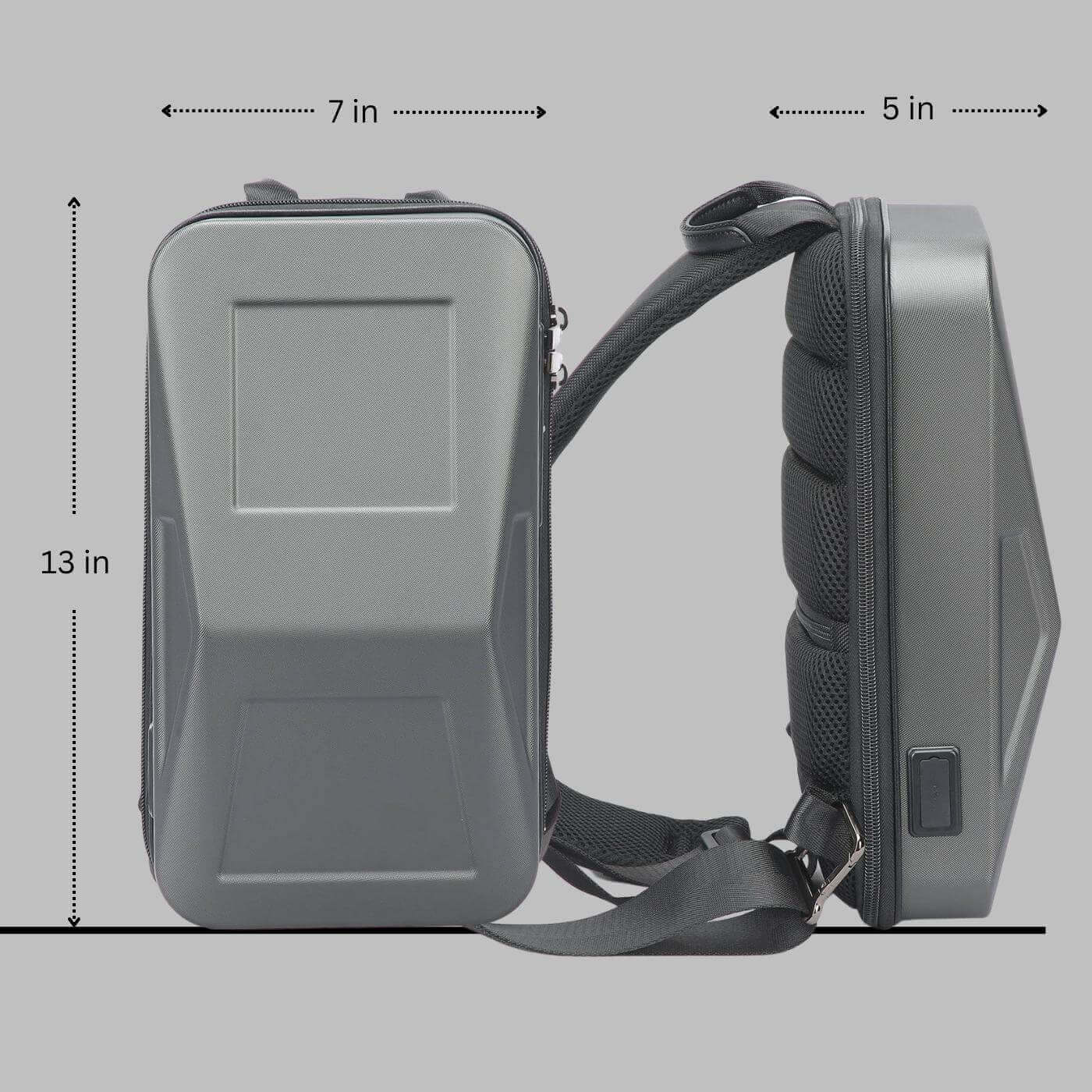 Convenience & Versatility On-The-Go
The compact size of the Cybersling is ideal for travelers who want to travel light and only need to carry a few essential items with them. The Cybersling's measurements also make it easier to store in small spaces, such as in a locker or under the seat on a plane.
The carbon fiber hardshell provides peace of mind knowing your belongings are well-protected.
The USB charging port and power bank allow you to stay connected and powered up on-the-go.
The passcode lock adds an extra layer of security for your valuables.
The anti-theft pockets give you the confidence that your belongings are safe from potential thieves.
The breathable and massaging back panel promotes healthy posture and a comfortable wearing experience.
The extra wide opening allows for easy access to all your belongings.
The padded shoulder straps provide added comfort during long periods of carrying.
The tech organization features allow for easy and organized storage of all your tech gadgets.
The waterproof design protects your belongings from water damage.
The cut-resistant material provides added security against potential theft.
The hidden pockets offer convenient and discreet storage space for your valuables.
The credit card sleeve pocket keeps your credit cards secure and easily accessible.
The iconic modern stylish design adds a touch of sophistication and fashion to your outfit.
The durable and water-resistant design ensures your belongings are well-protected in any weather.
The lightweight design makes it easy to carry around without feeling weighed down.
Backpack
Carryon back is great however the backpack has limited space due to it shape and straps interfiere when on top of the carryon
Great looking. A bit bigger please
I got the carry on and the backpack. Great. The sling is just a bit too small to hold an iPad 9th generation tablet especially so if it has a case. Great otherwise
LOVE IT
I love this bags. I bought a set and I absolutely love. Just know you will be approached by a lot of people about your bag. You definitely will stand out. Go get yours and stop thinking about it. It's worth the money.
Slick and convenient
Love it.. it's comfortable And gmholds everything I need in a small compact bag
Great product
Nice craftsmanship good quality looks great would recommend if looking for a sling bag with a little style different from the normal sling bags …
Introducing the Cybersling - Your Ultimate Anti-Theft Messenger Bag and Sling Bag
Here's the Cybersling, the best messenger bag ever made for Tesla Cybertruck users and fans. Like the famous Cybertruck, the Cybersling was made with great care and attention to detail. It combines style and usefulness in a way that will turn heads.

One thing that makes the Cybersling stand out is that it uses current technology to keep your things safe. With hidden pockets, locks, and materials that can't be cut, this backpack keeps your things safe in today's fast-paced world, so you can travel without worrying.

The Cybersling is not just a messenger bag. It can also be used as a laptop bag, protecting your device from drops, bumps, scratches, and other damage. It helps you stay organized and productive on the go by giving you more space for tools, phones, papers, and water bottles.

Inspired by the cyberpunk style, which is popular among tech fans and fashion-forward people, the Cybersling has a sleek, modern look with multiple pockets, protected laptop sections, and USB charging ports to meet the needs of modern life in style.

The Cybersling is the best choice for people who own a Tesla, are interested in technology, or value style and safety. It is the best combination of style, usefulness, and safety. The Cybersling will help you look better and keep your things safe. Get one today and join the Cybertruck-inspired fashion movement.