Anyone who knows me would know that I am a huge fan of Tesla. I just don't talk the talk, I also walk the walk. I have been a Tesla owner since 2016 and all the cars in my household are Teslas, even my kid drives a Tesla 😂.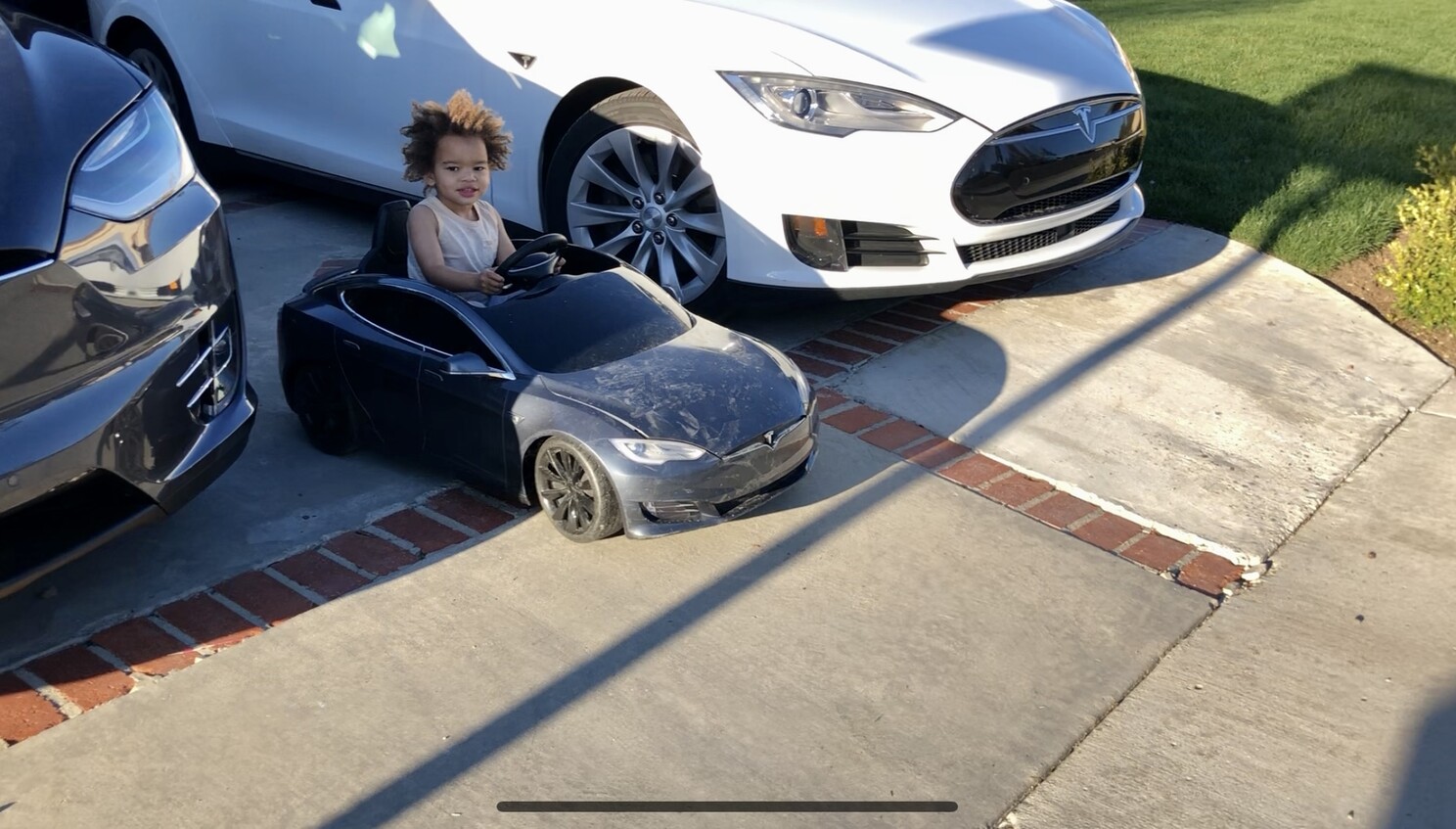 If you also follow me on Social Media, you would know that I have been working on a cool new backpack concept called a Cyberbackpack for the past few months.
I even did a launch on Product Hunt and had my kids model it because, for us, Cyberbackpack is a family affair.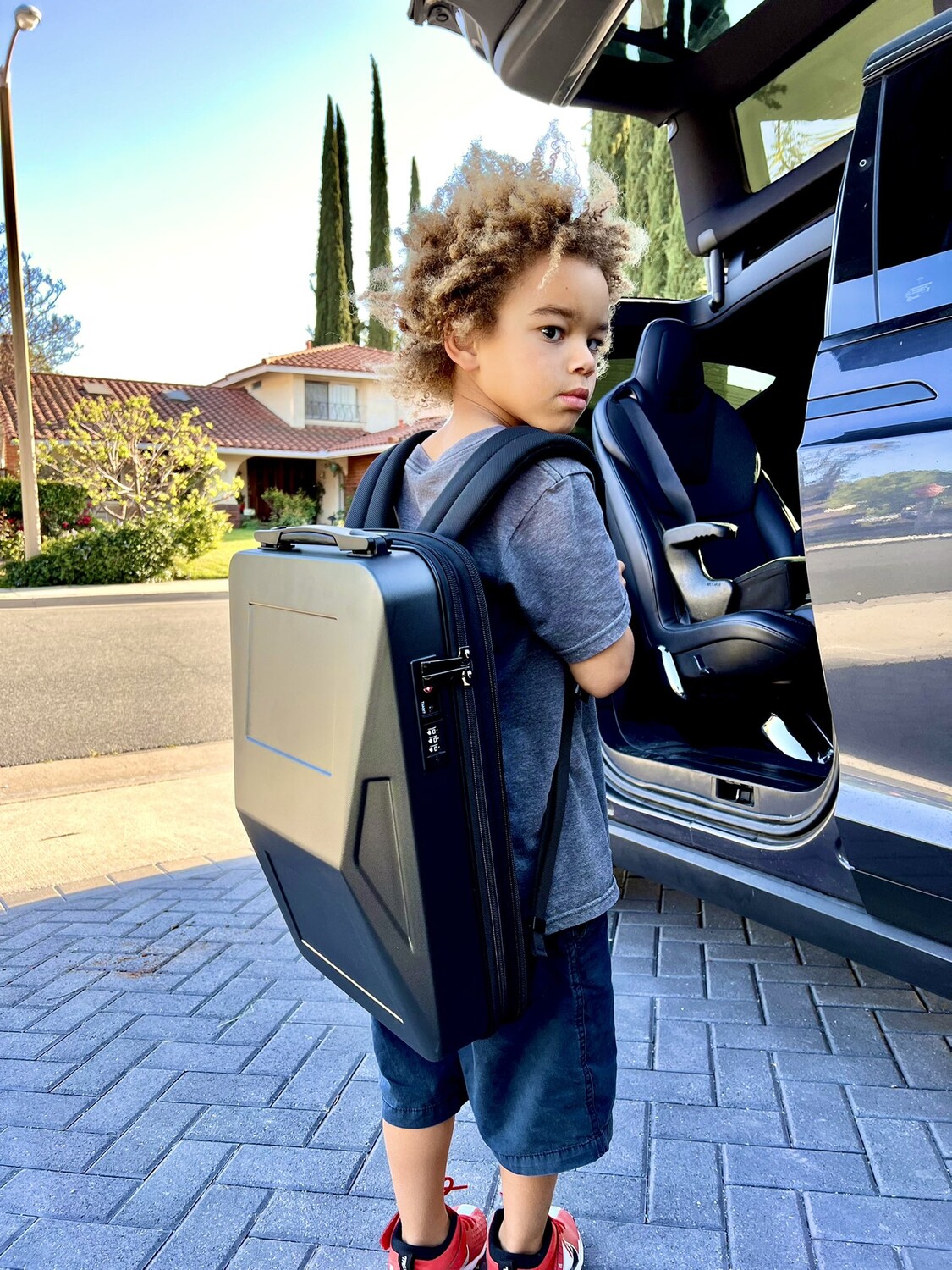 So you can imagine my surprise when I read an article on Teslarati, Electrek, InsideEVs and AutoEvolution about how Tesla had filed a trademark for the name CYPERBACKPACK, without even as much as a phone call. Usually, I get taken out to Sunday brunch before getting screwed.
But what hurts the most is that I had reached out to Elon Musk on Twitter several times and also emailed a top Tesla executive (with whom I was previously in contact) about my Cyberbackpack product weeks before the trademark filing.
.@elonmusk gonna shoot my shot. I made a Cybertruck backpack [Cyberbackpack] and would love to get it on the tesla store. 50/50🙏🏾 pic.twitter.com/ZbU9LF9VyW

— Riz (@Riz) March 12, 2022
If you were thinking anyone could have come up with this idea, here are the key events that led me to create the Cyberbackpack and why I was (and still am) the right person for this product.
March 2016
I purchased my first Tesla. Again, this was a family affair.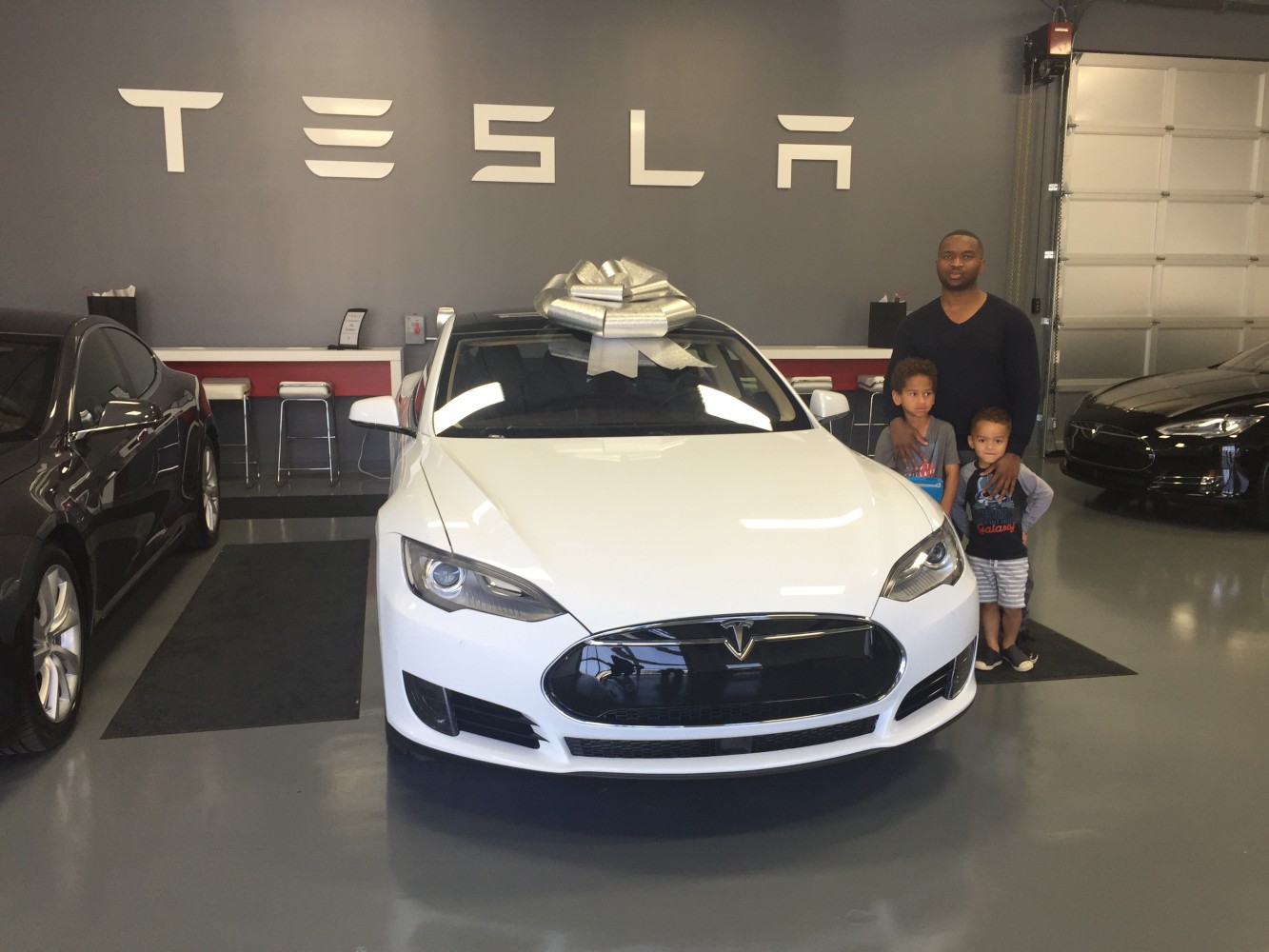 August 2016
That same year, I started blogging and posting on social media about Tesla and electric vehicles. Here's one of my earliest posts: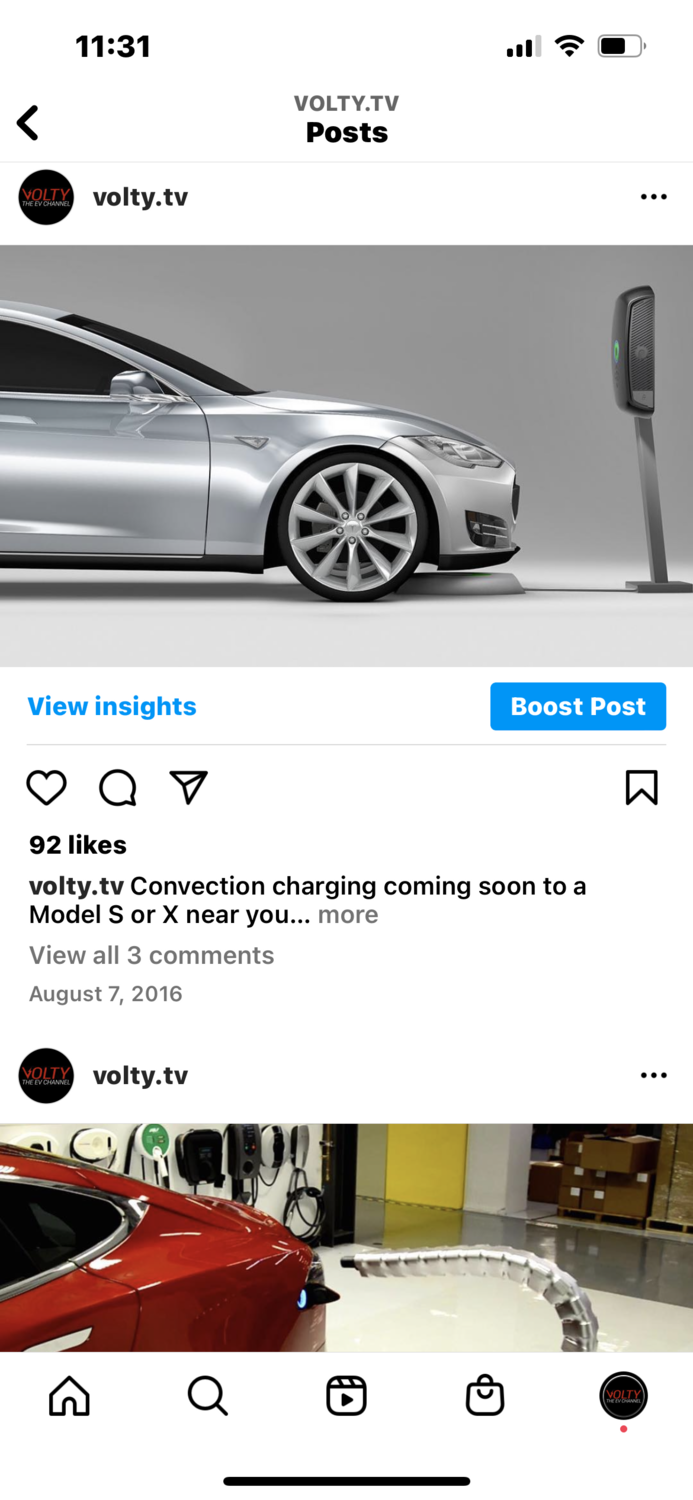 March 2019
I attended Tesla's unveiling of the Model Y where I met Franz who would go on to design the Cybertruck later that year.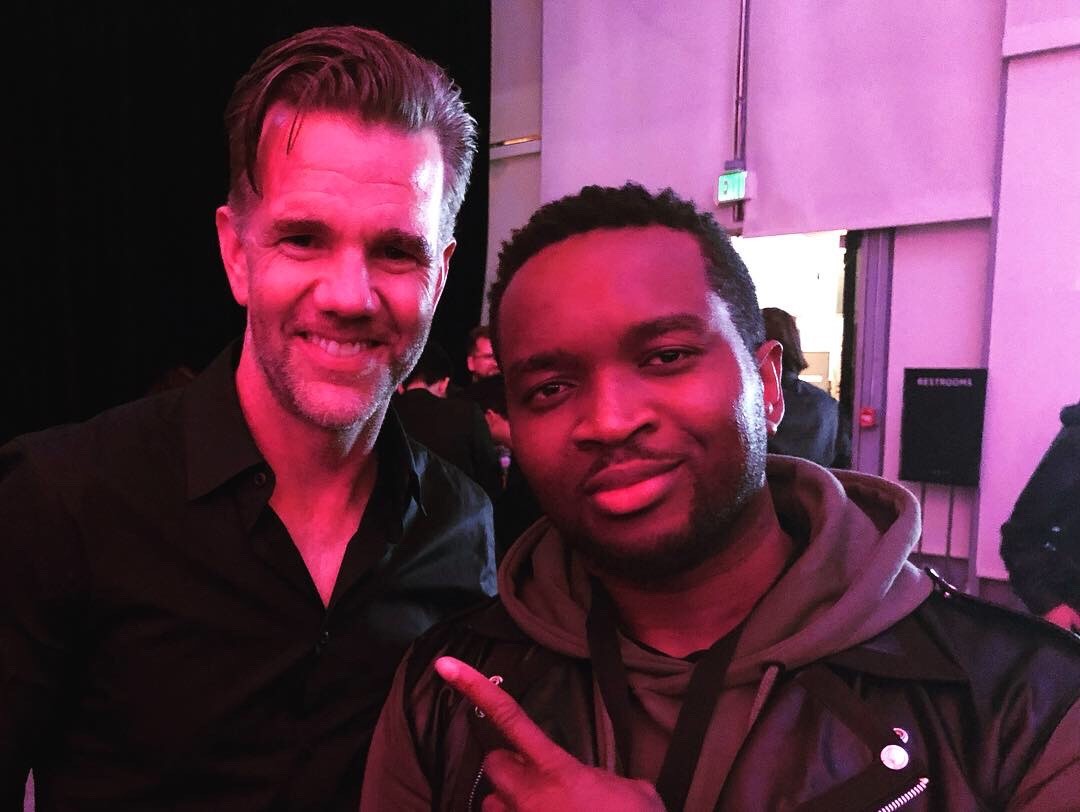 November 2019
I attended the unveiling of the Cybertruck where I got to meet Elon Musk, a person I have admired and respected for many years.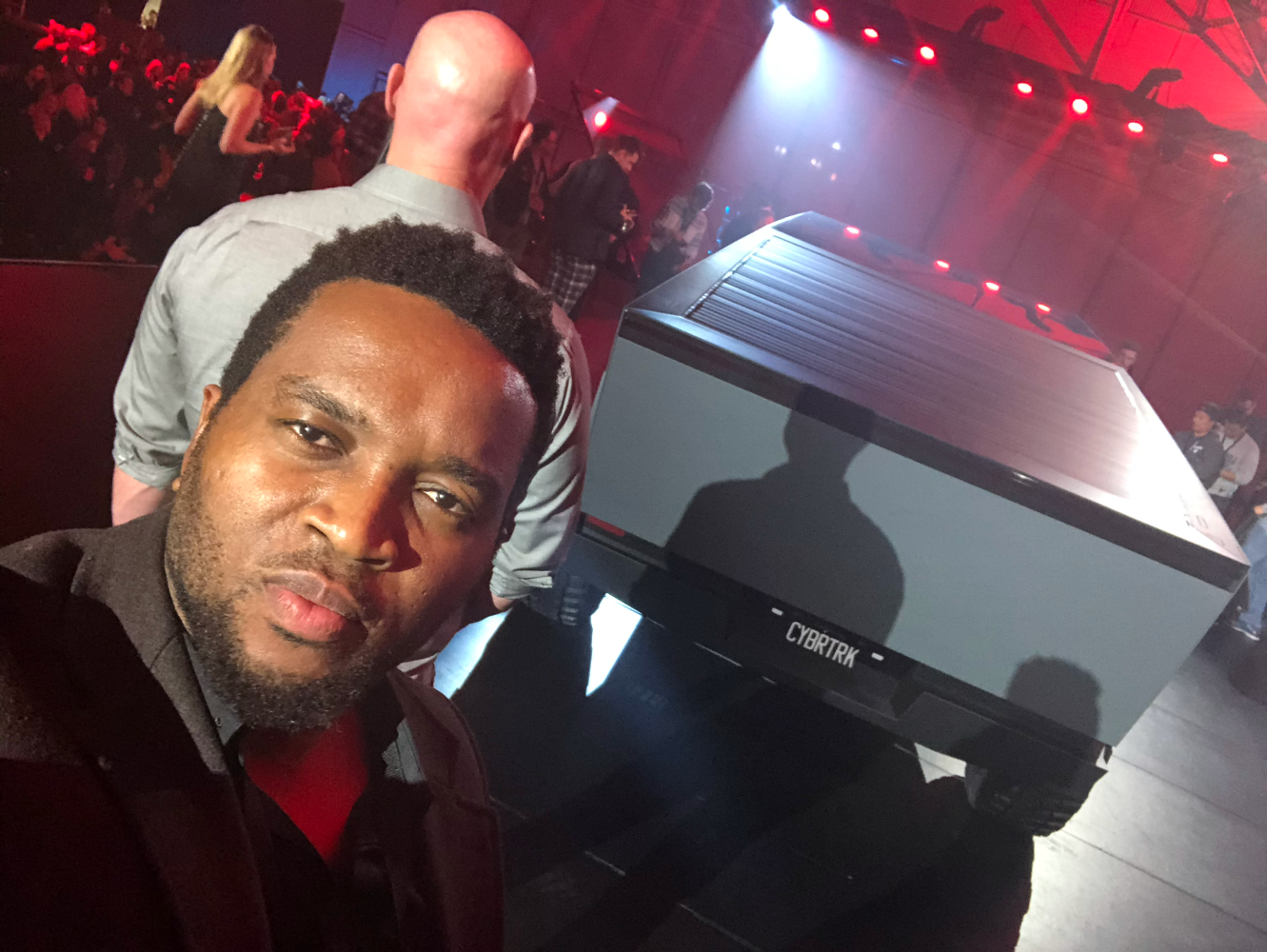 Pop Quiz: How many Africans do you see in this photo? It's definitely not equal to one.
August 2020
I launched the first-ever OTT streaming Linear & VOD channel dedicated to electric vehicles called Volty TV.
December 2021
I began designing and building what would become the Cyberbackpack. I also registered the domain www.cyberbackpack.com and launched a website taking pre-orders, a strategy I learned form Tesla.
March 2022
I received my first prototypes of the Cyberbackpack.

March 2022
I launched on ProductHunt, created a Shopify website and immediately started receiving orders. The response was tremendous very positive.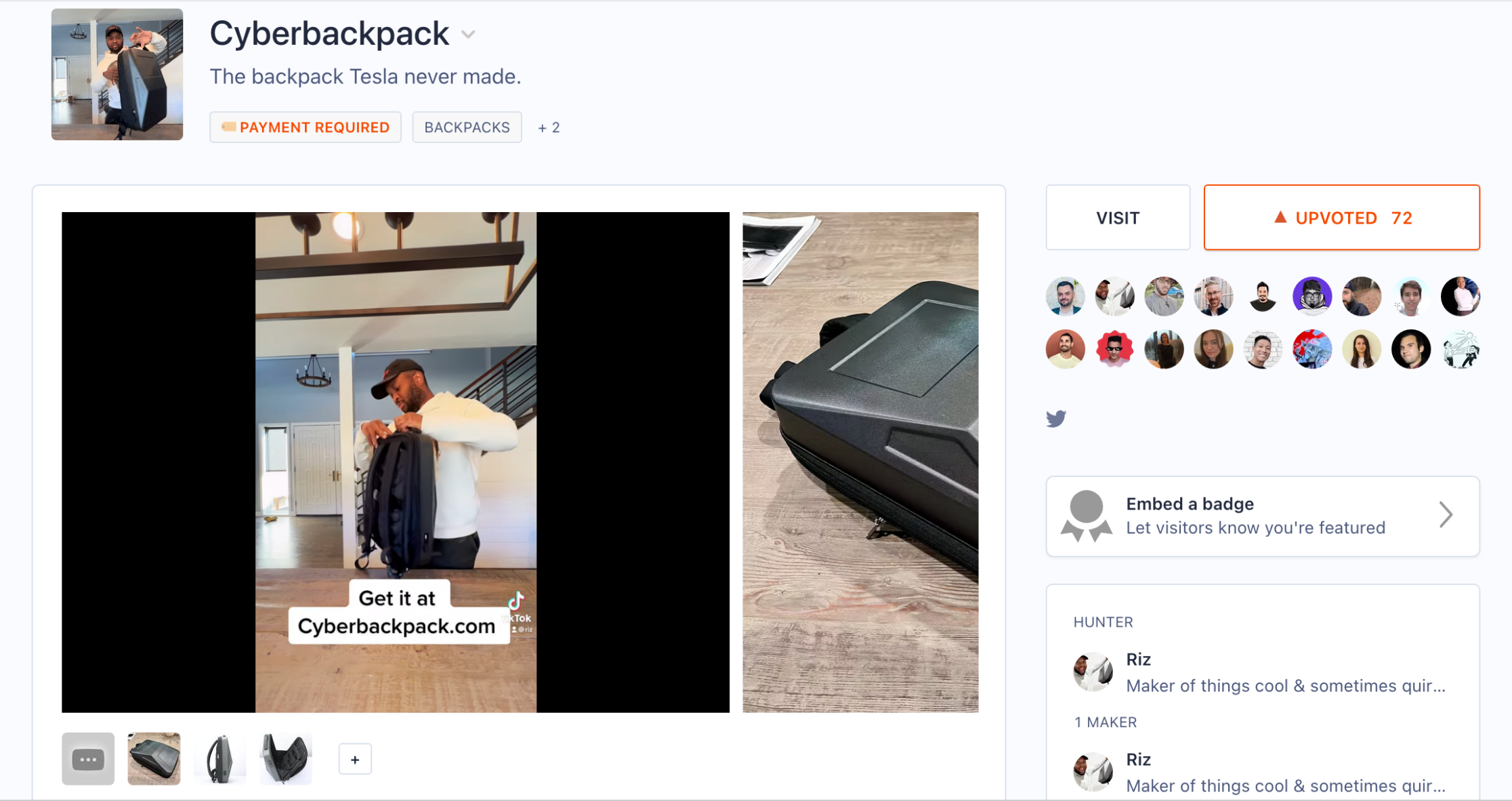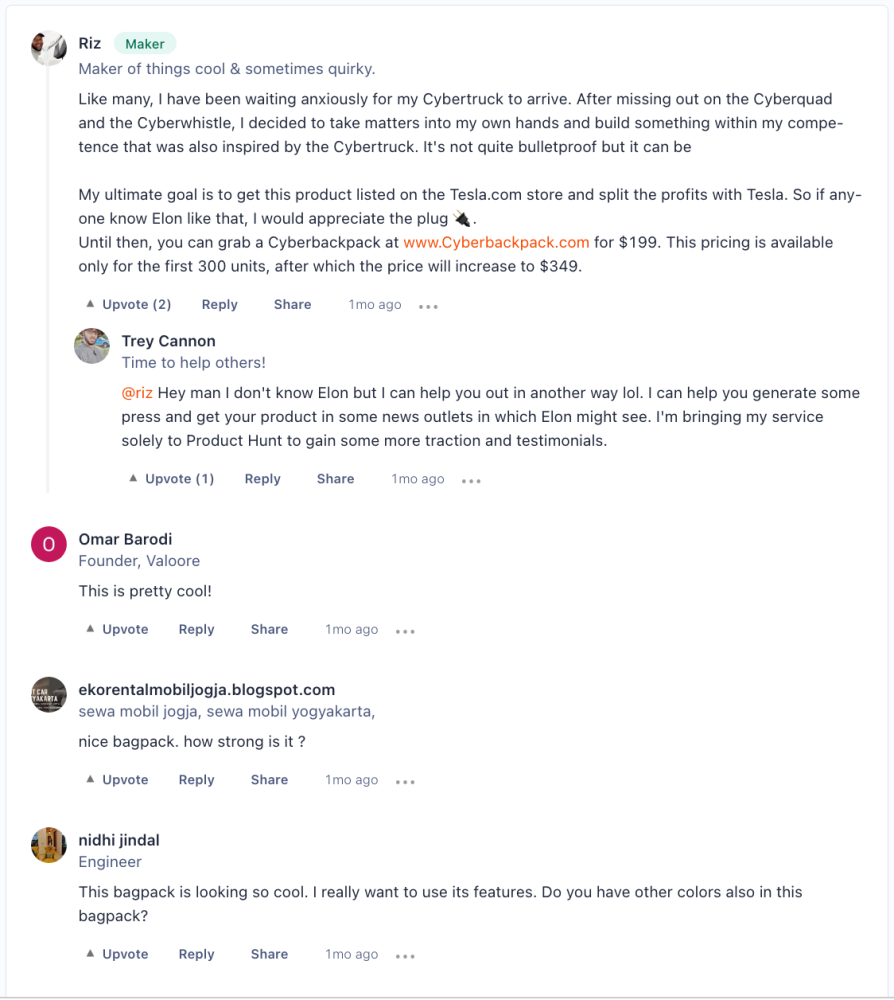 March 2022
I reached out to Elon Musk with a Twitter thread about the Cyberbackpack and also contacted a top Tesla executive to see if we can work together to bring the Cyberbackpack to more people.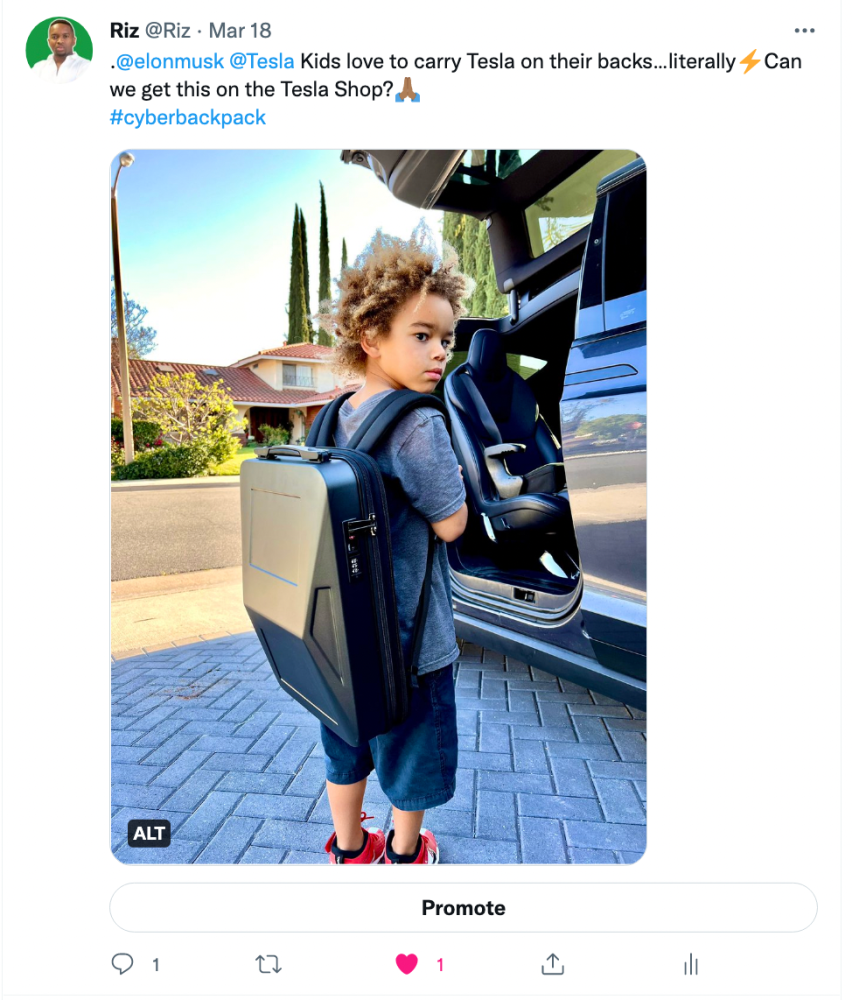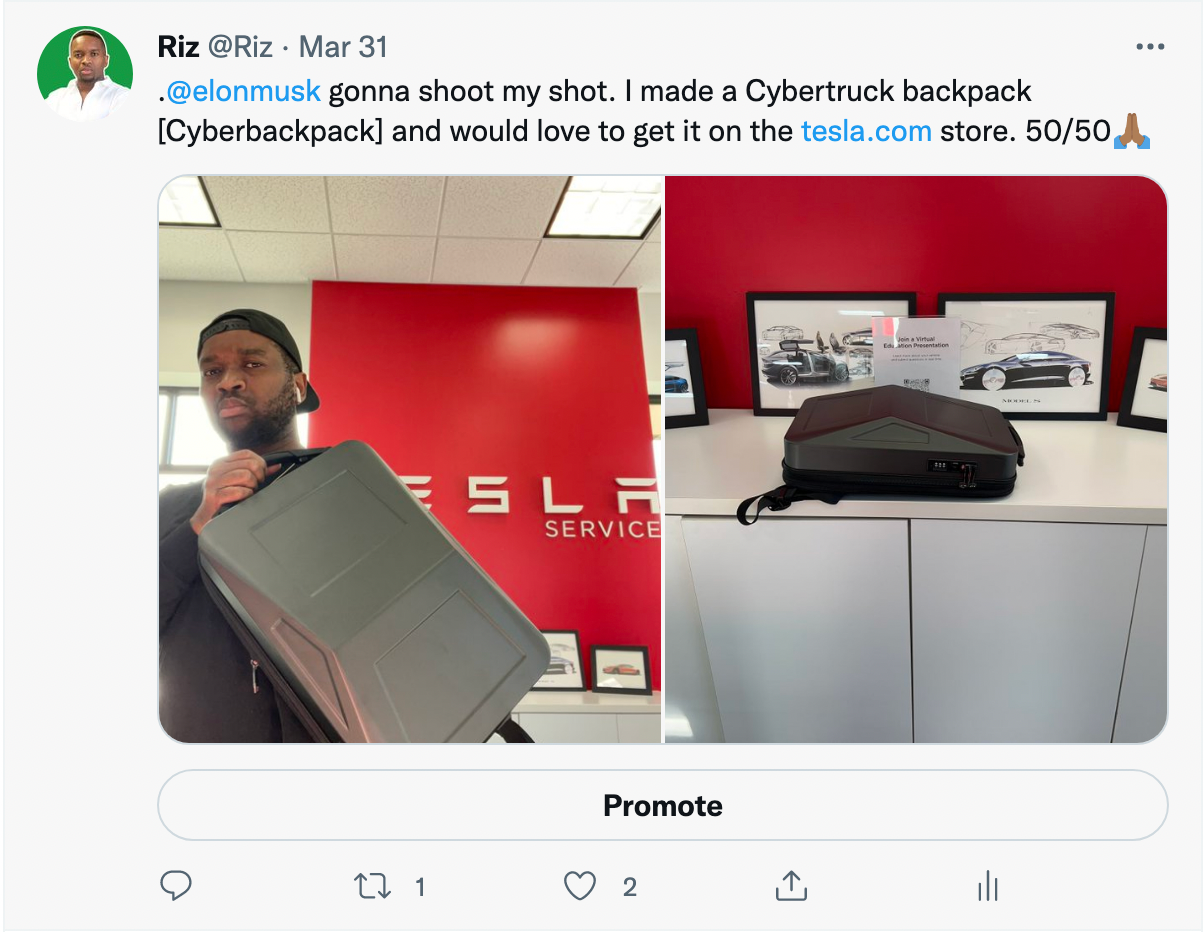 April 2022
Tesla files a trademark for the word CYBERBACKPACK and indicate in the filing that they intend to use it to sell "Book bags" and "School bags". Hmm...that's strange!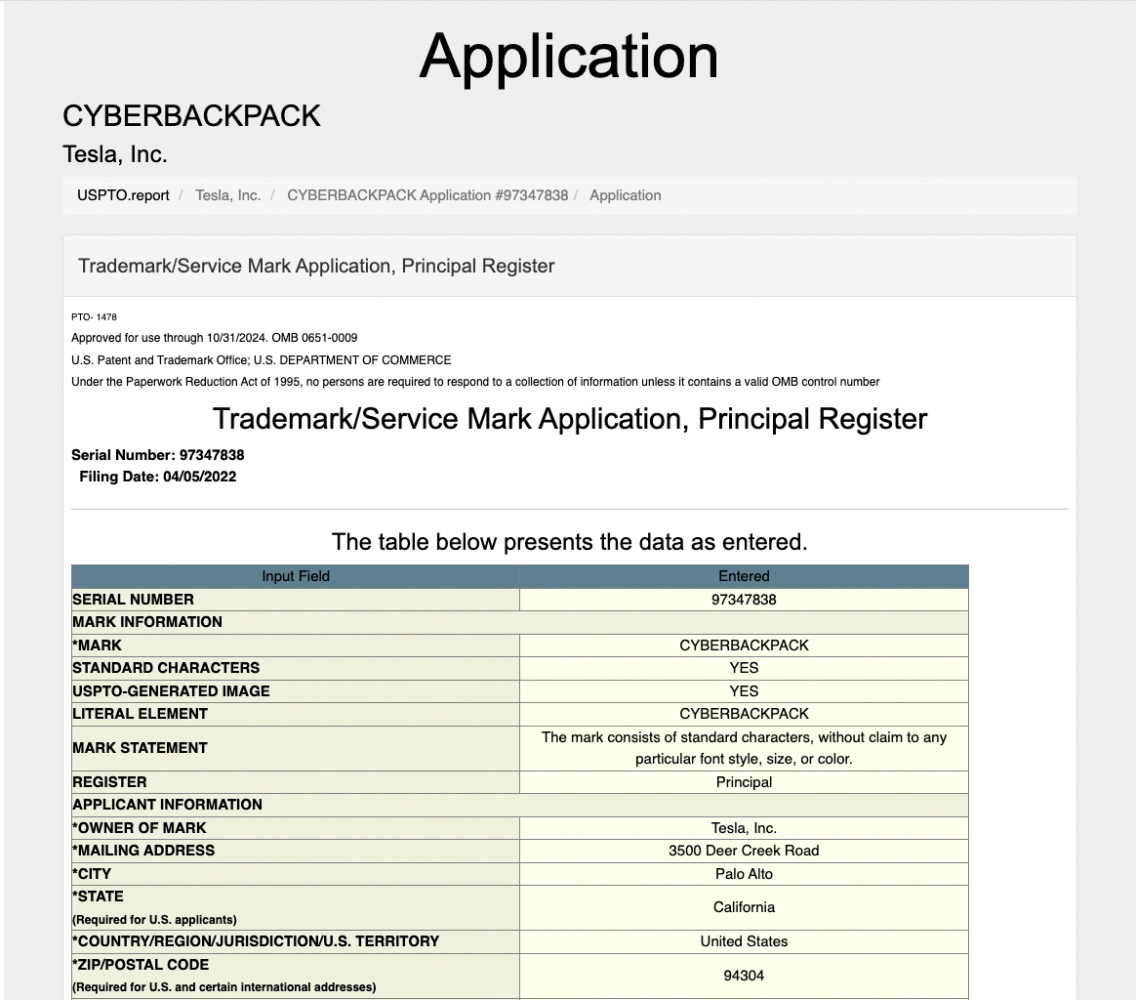 Since then, news about the trademark filing has exploded online and still not a word for Tesla or Elon...bruh!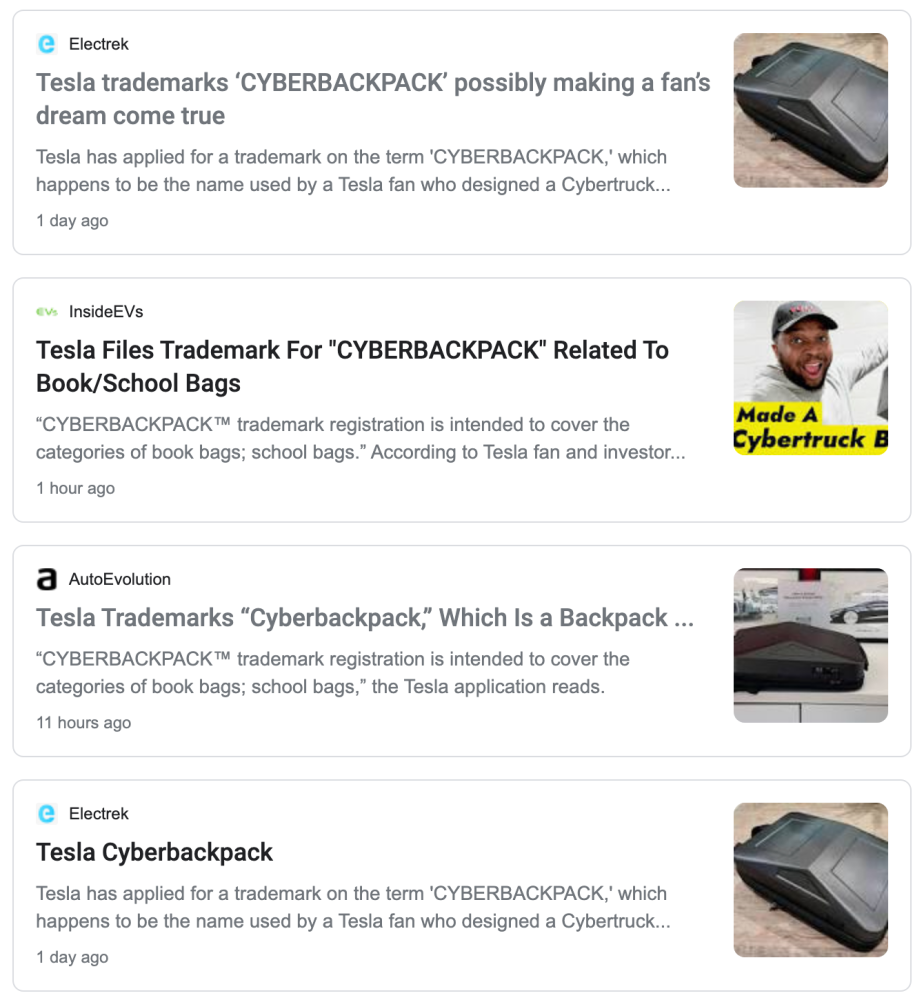 April 14th, 2022
I filed my own trademark for the word CYBERBACKPACK and with a "first use" date in December 2021. So USPTO law is on our side.
In Conclusion
I still would love to work with Tesla on this. But until then, make sure you get your order in as the Cyberbackpack is fast becoming a collector's item 🙏.