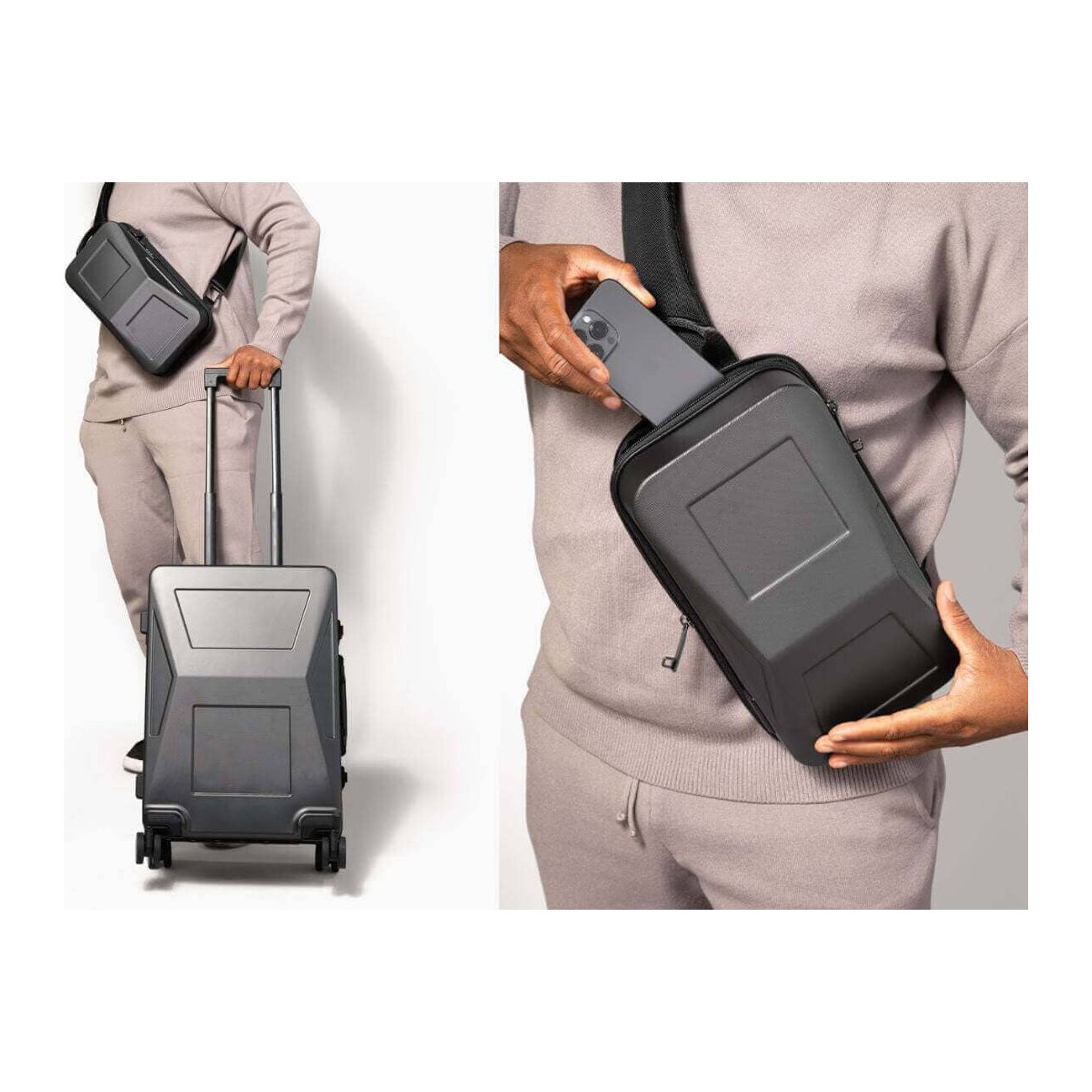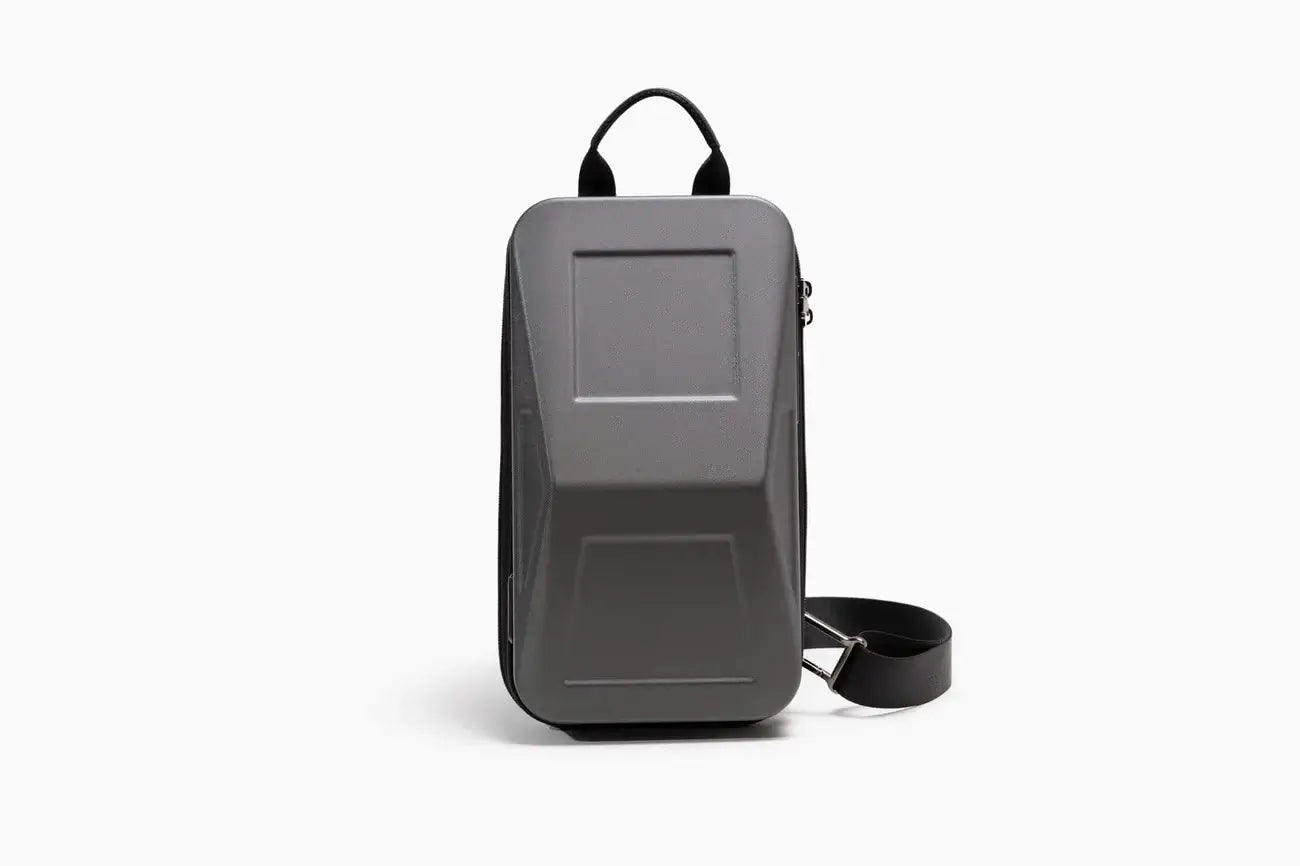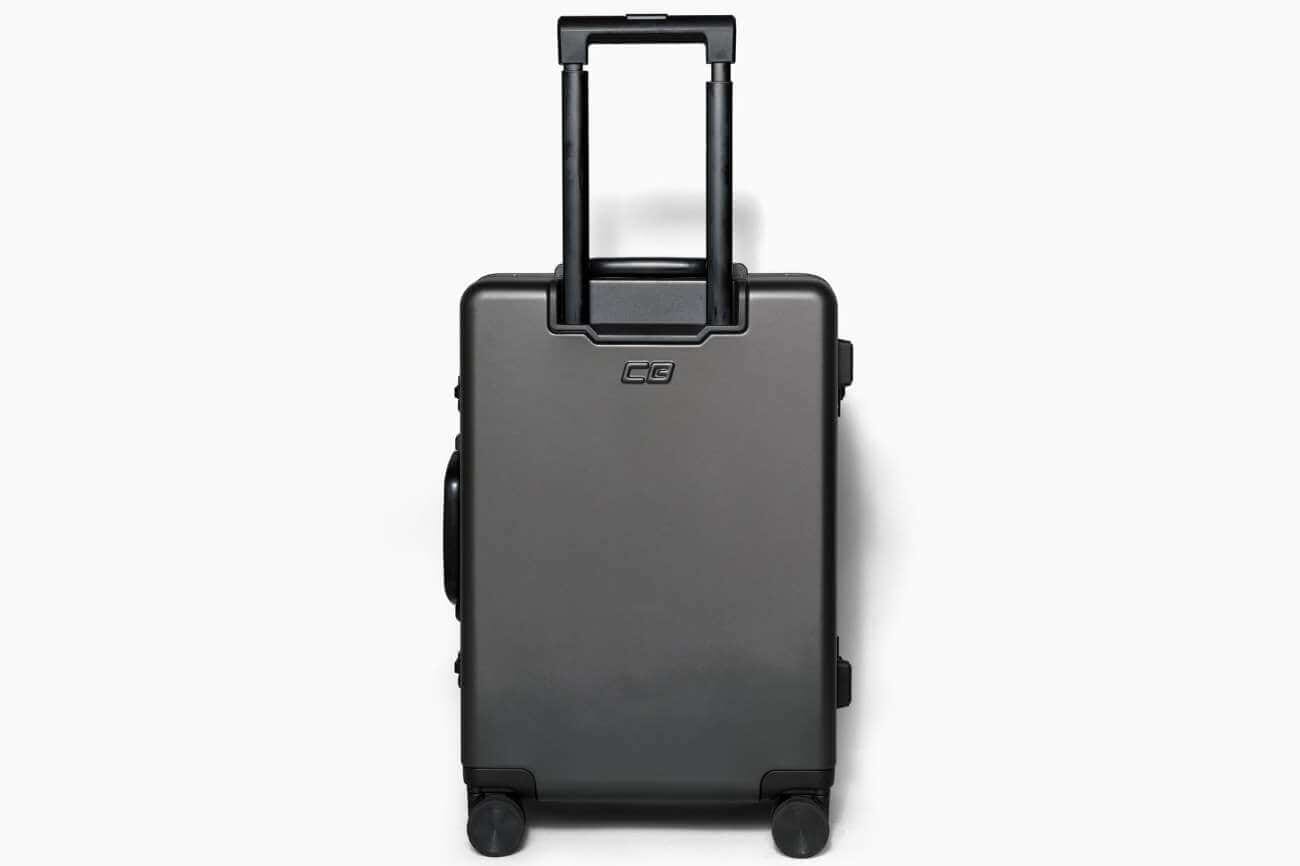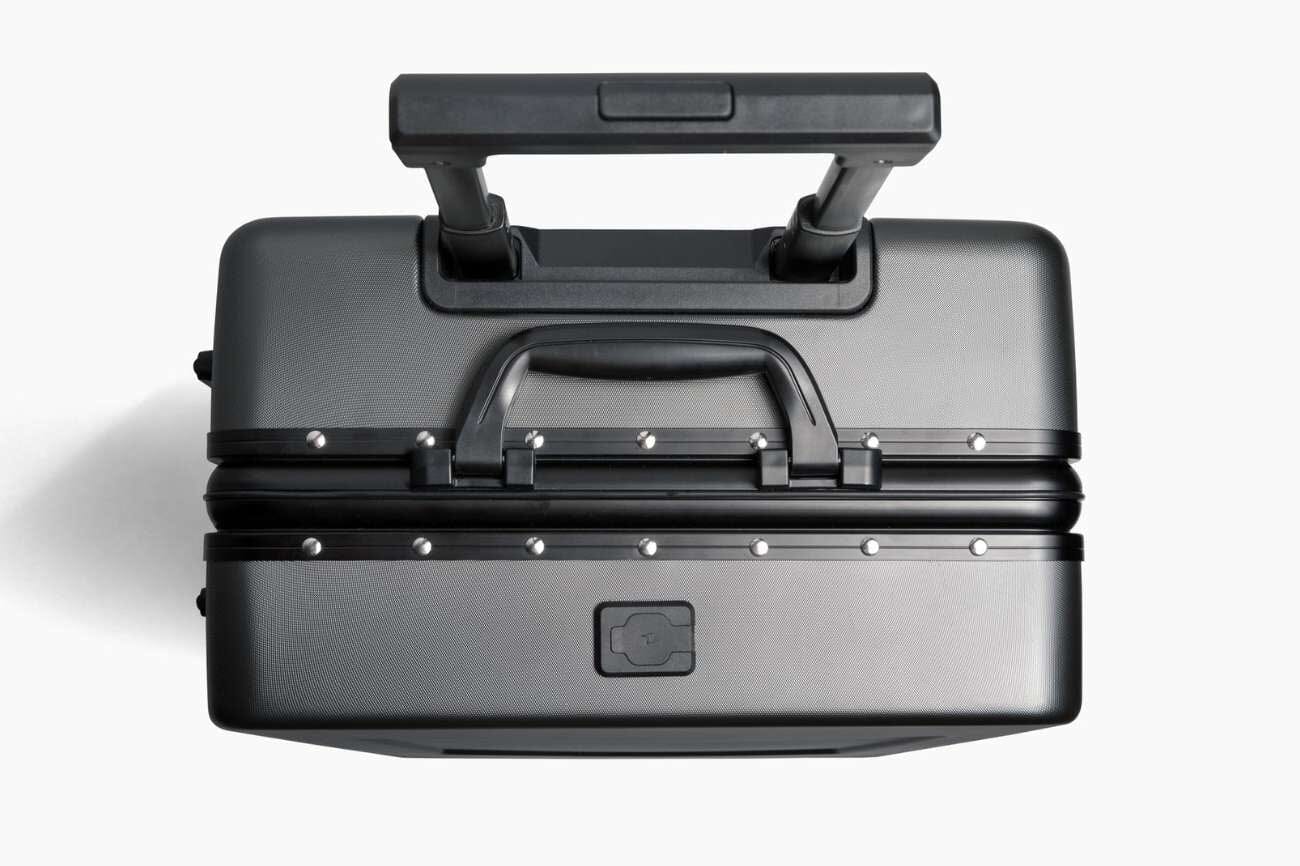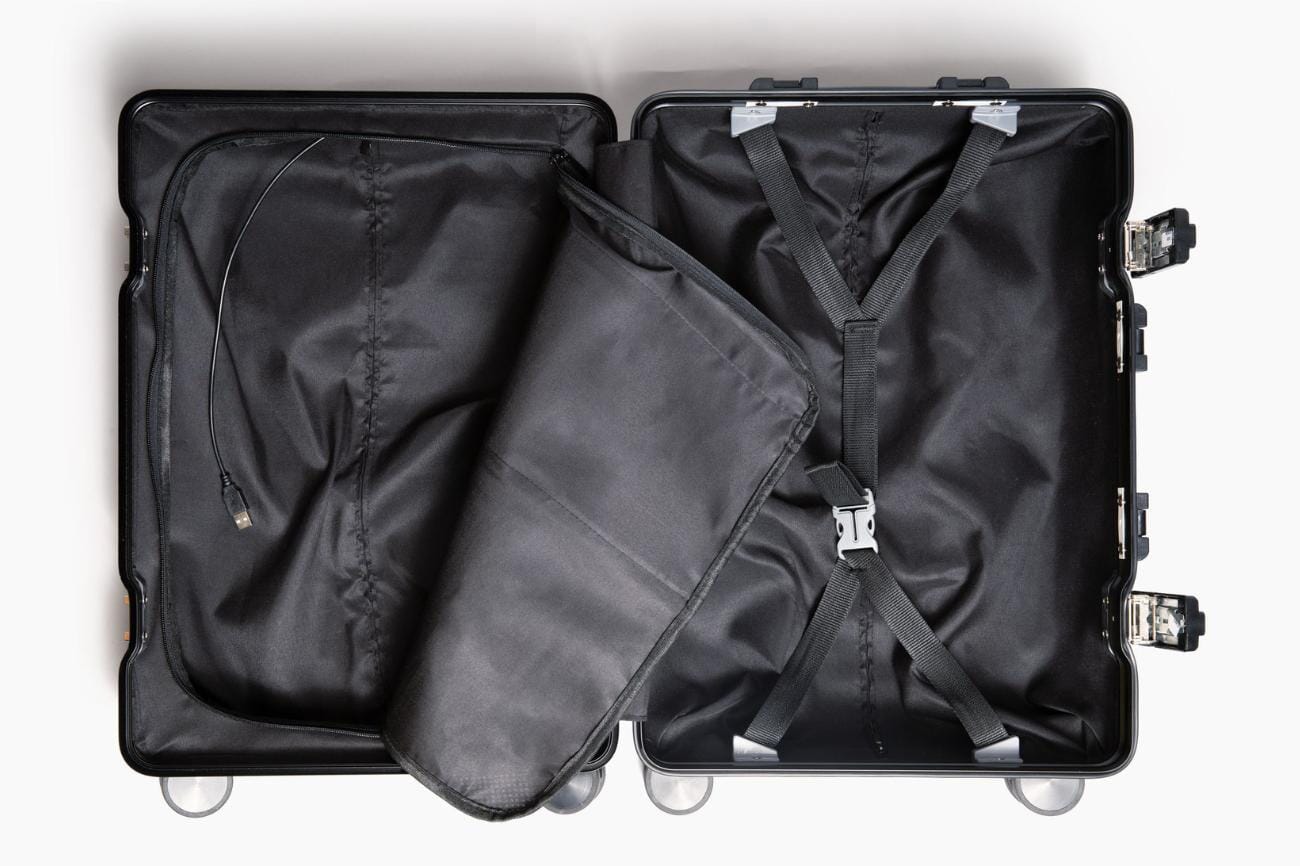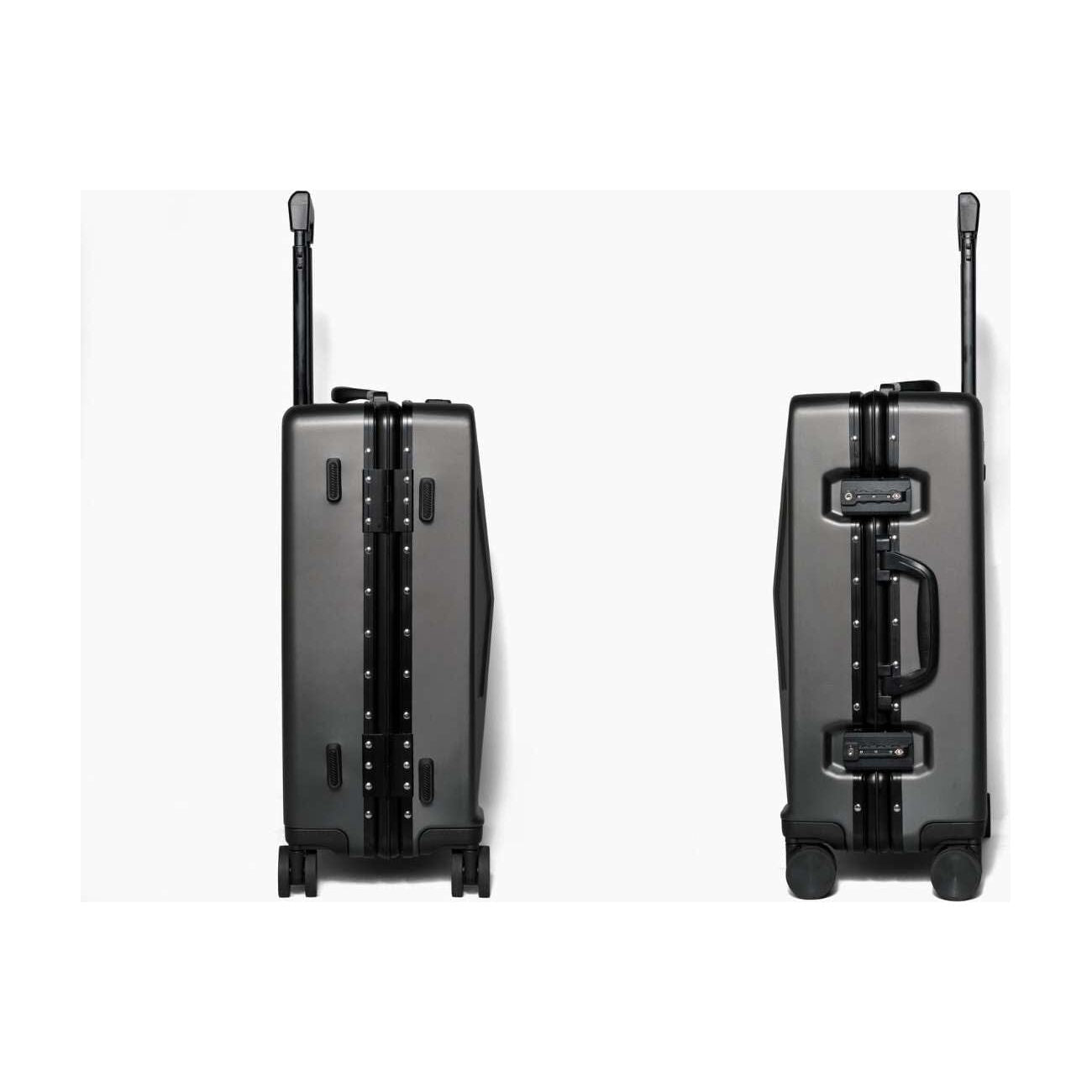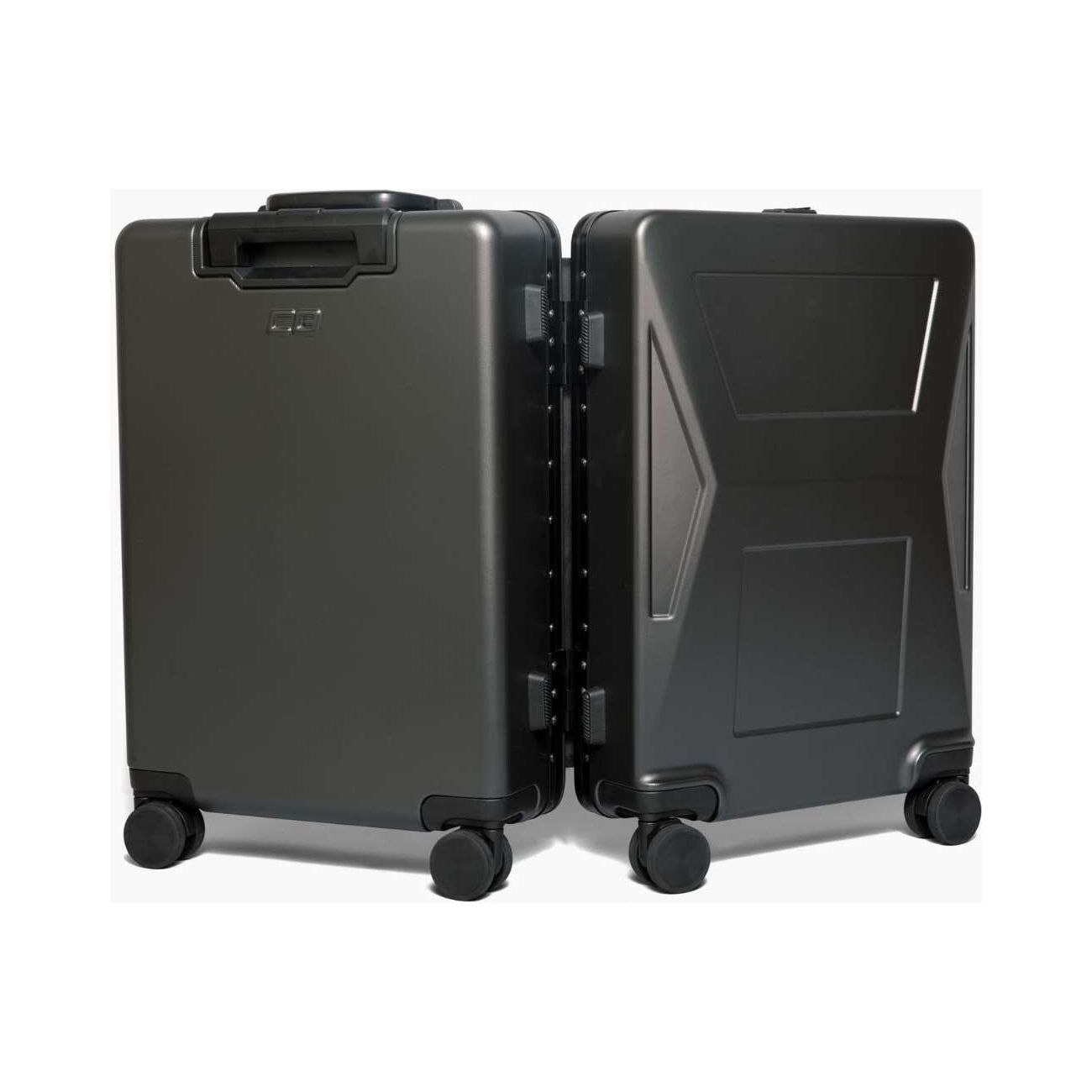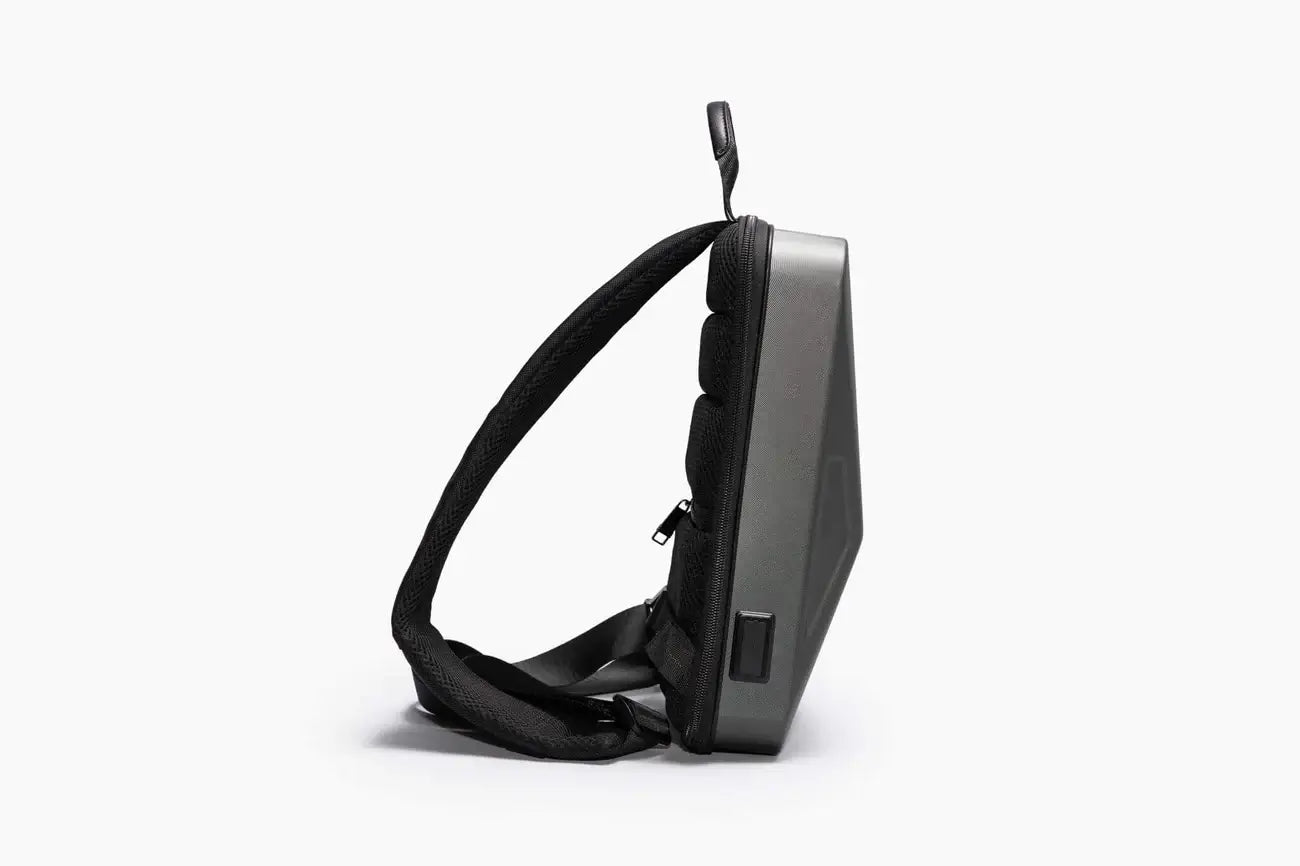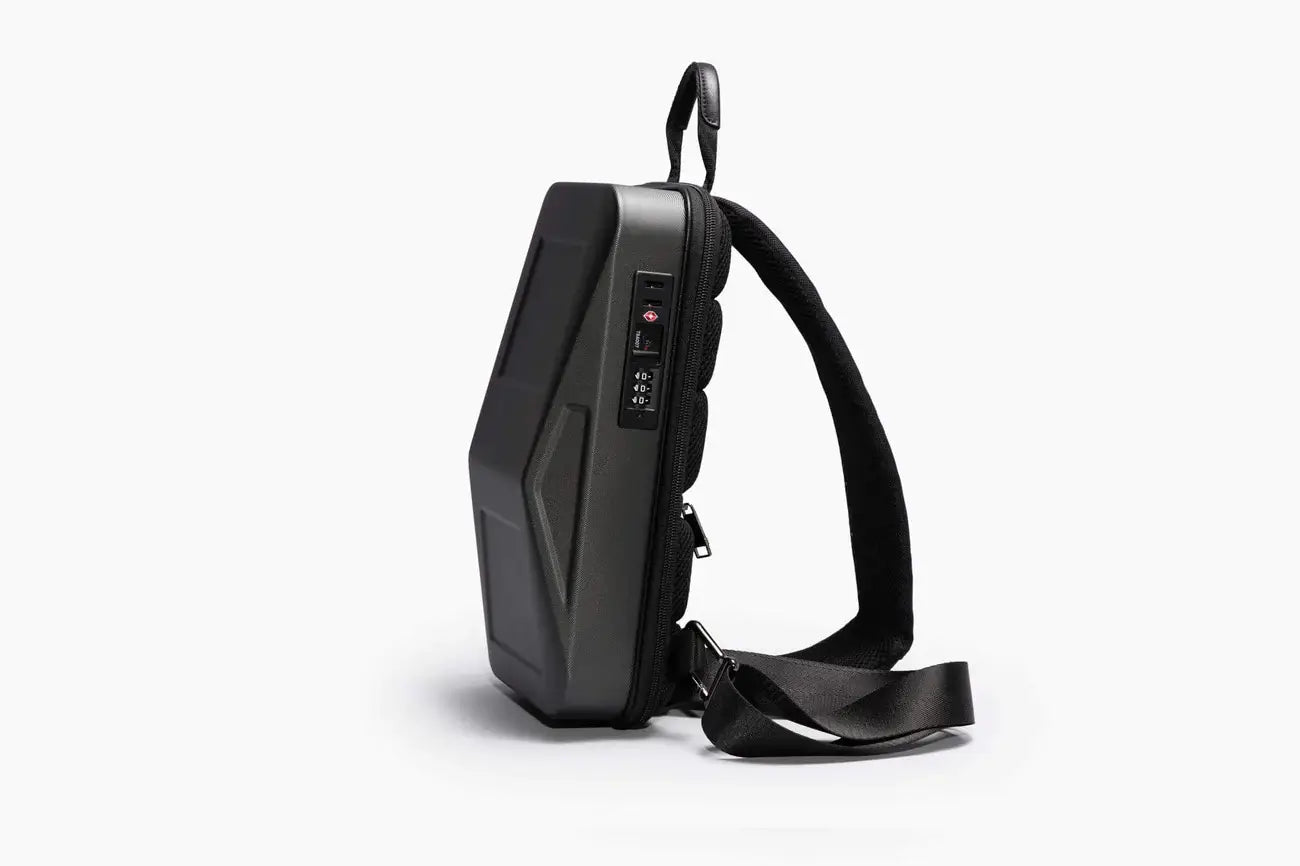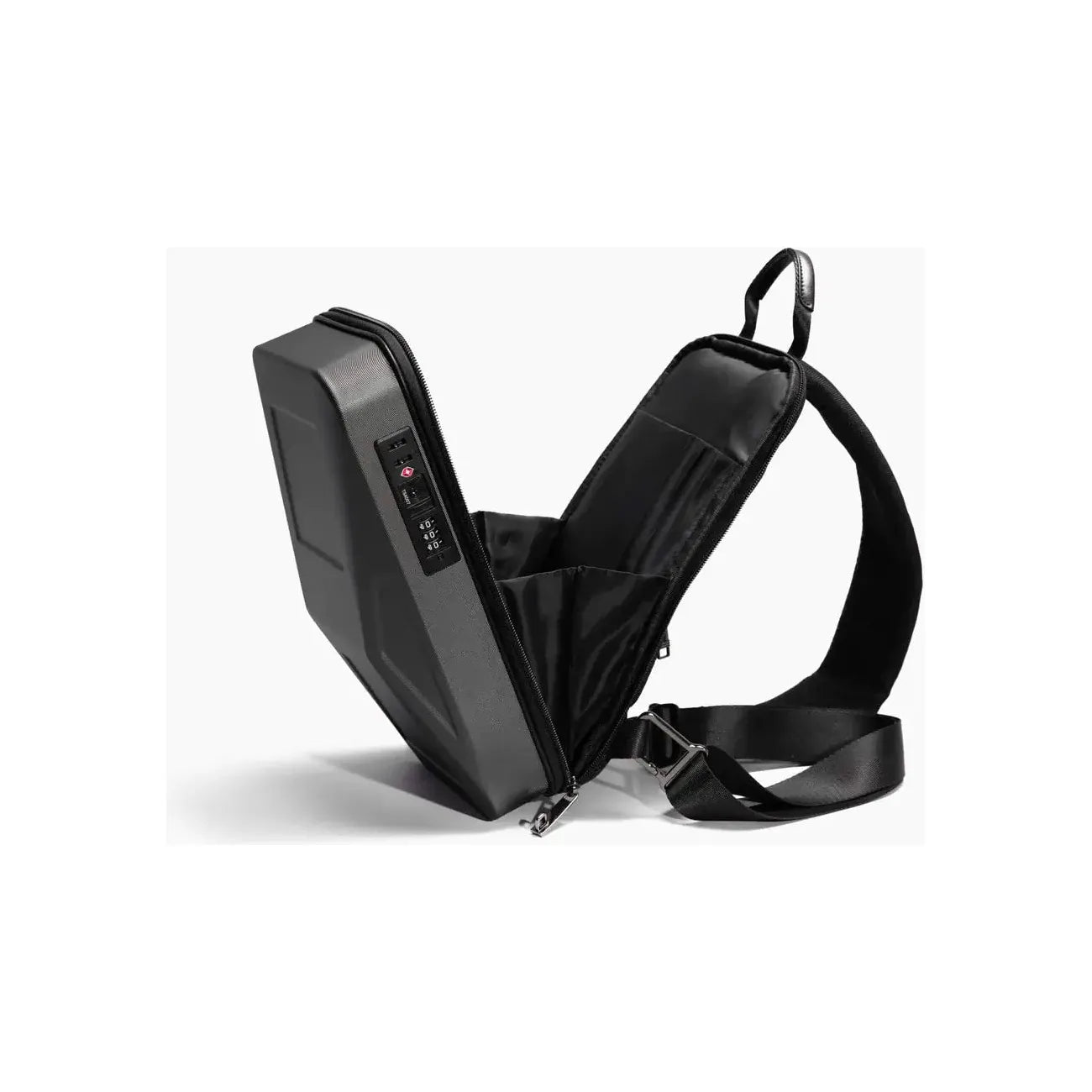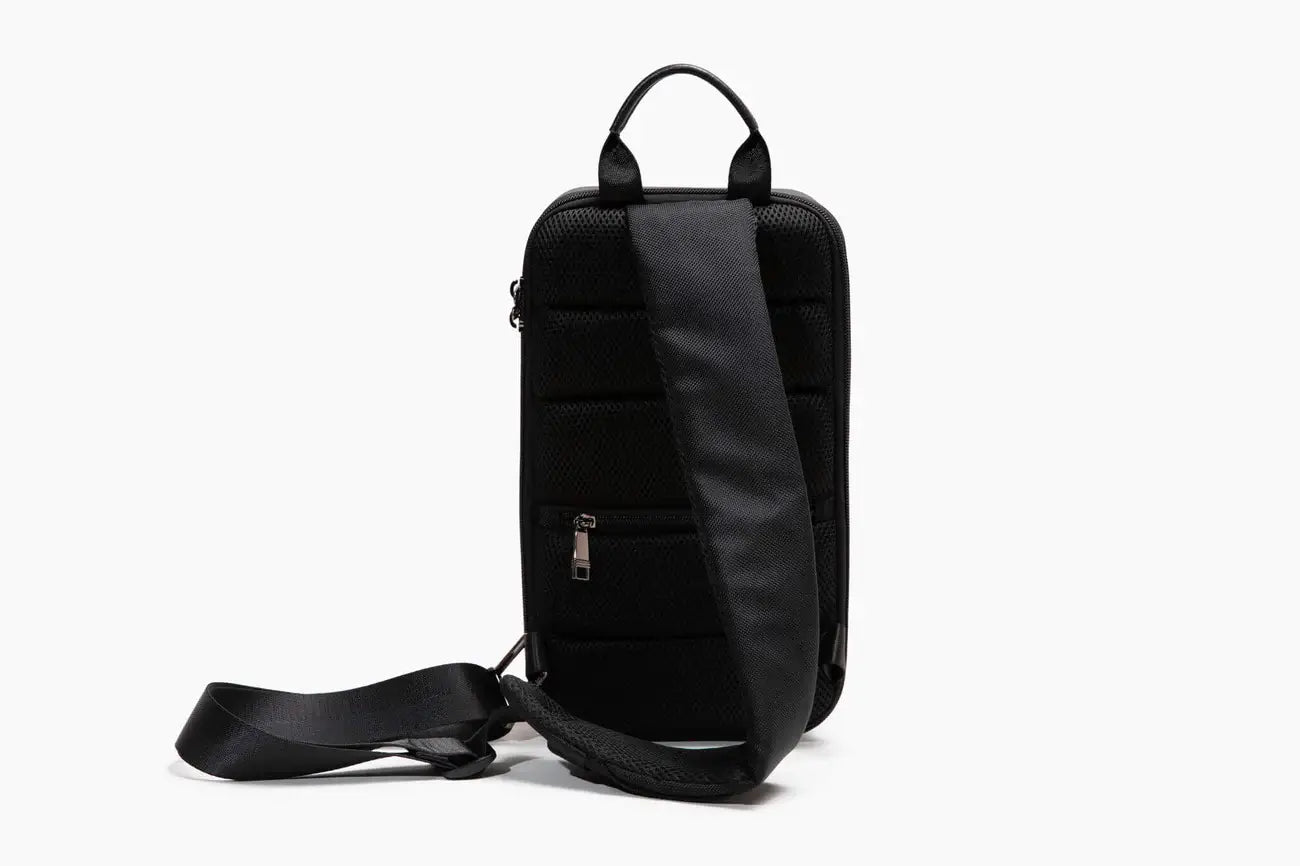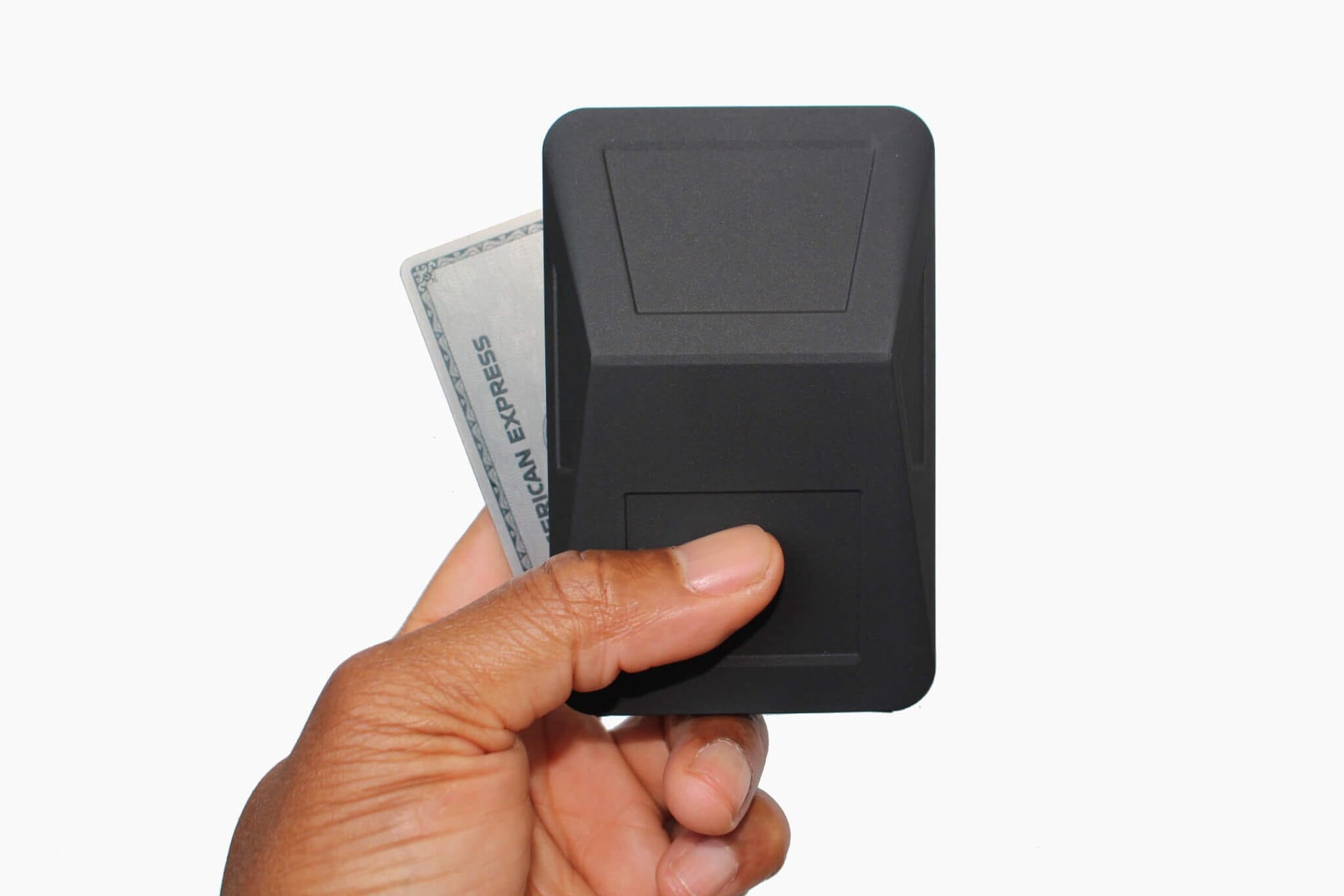 CYBERLUGGAGE + CYBERSLING + CYBERPOWERBANK Essential Bundle
Order today and get up to $70 of gifts:
✅ FREE 4000mAh Power Bank (US & Canada)
✅ FREE Dust Bag
✅ Upgrade to 2-Day Shipping (US Only)
✅ VIP Protection Plan (12 Month Warranty)
Ships within 24 hours.

Introducing the Laptop Anti-theft Backpack 2.0, Cybersling and 2 Cyberpowerbanks weekend bundle, the lightweight combination of style and functionality (2 powerbanks included as a free gift).
Cyberluggage is the ultimate travel companion for the tech-savvy jet-setter. This sleek, futuristic carry-on luggage features a built-in USB and battery power bank, so you can charge your devices while you're on the go and Cybersling is 
a perfect accessory for the modern, tech-savvy individual. This compact bag features a sleek, futuristic design that is both stylish and practical with a passcode lock to keep your items secure.
Together, the Cyberluggage and Cybersling weekend bundle provide the perfect balance of style and functionality. Whether you're heading to class, the office, or out on the town, this dynamic duo has got you covered. Get yours today and start experiencing the convenience and versatility of the Cyberluggage and Cybersling travel bundle. 
Durable polycarbonate hard shell
Lightweight
Hardshell interior
Compression straps
360° spinner wheels
TSA combination lock
3-5 days of travel
Carry-on ready
5-7 outfits
Meets the airline requirements for most major airlines as carry-on luggage
Exterior: 21 inch (Height) x 14 inch (Length) x 8 inch (Depth)
Weight: 7.5 lbs
Volume: 40L
Charging Port: USB-A & USB-C
Materials: The Cyberbackpack hardshell exterior is made from polycarbonate and chromophore mixed in a special ratio for superior strength, durability, and water resistance.
Measurements include wheels.
LARGE CAPACITY & ORGANIZED: This 45L large carry-on has a large spacious compartment to fit your travel needs. The main compartment is roomy for travel necessities, such as clothes, shoes, toiletries, etc. And the interior floating compartment has two zipped pockets to keep your things organized and easy to find. 
TSA PASSCODE LOCK: This checkpoint-approved passcode lock system allows you to securely protect your belongings while also giving TSA access if needed.
USB CHARGING: This checkpoint-approved charging system allows you to conveniently charge while traveling and enjoy music or social media at any time. The USB charging plug just offers easy access and a hands-free way to charge.
LIGHTWEIGHT & STURDY: The Cyberluggage is a lightweight and sturdy suitcase that offers a range of benefits for travelers. Its lightweight design makes it easy to carry and maneuver, which is especially useful for travelers who need to move their luggage around a lot. This can help reduce excess baggage fees, as it won't add unnecessary weight to your luggage.
DURABLE MATERIAL: The Cyberluggage is made from durable materials, making it a sturdy and protective choice for your belongings. This is important for travelers who are concerned about their belongings getting damaged or lost while in transit. The hard-shell exterior of the Cyberluggage provides maximum protection for your belongings, so you can have peace of mind while you're on the road.
Battery: A Powerful 4000 mAh Lithium-ion Polymer Battery Type that Can Charge an iPhone 10 up to 3 times.
Connector: Type-C and Type A
USB Connectivity: This comes with a USB Type-A port to charge smartphones, tablets, MP3 players, digital cameras, or other devices that are powered by USB.
Dimension: 4.3 x 2.8 x 1.2 Inches
Weight: 0.6 lbs
Brand: CyberBackPack.com
USB Compatibility: The USB Type C charging technologies give virtually all USB-C and USB-A powered devices a super-fast power boost, for YOUR iPhone, Samsung, iPad, or Android devices.
Device Compatibility: IPad Pro 2021/ iPad Pro 12.9/ iPad Pro 10.5/ iPad Pro 11/ iPad mini/ iPad Air, MacBook Air 13''(2018)/MacBook 12''/ MacBook Pro 13''/ MacBook Pro 15'', Samsung Galaxy S21/ S20/ Note 20/ S10/ S10e/ S10+/ S9/ S9+/ S8/ S8+/ Note 9/ Note 8/ Huawei P10/ Mate 9/ Mate 20X/ Mate 20 Pro LG G7 / V30+, AirPods/ AirPods Pro/ MagSafe / Google Pixel/ Pixel 3a/ XL/ 3/ 2XL/ 2, iPhone 13/ 13 Mini/ 13 Pro/ 13 Pro Max/ iPhone 12/ 12 Mini/ 12 Pro/ 12 Pro Max/ iPhone SE/ iPhone 11/ 11 Pro/ 11 Pro Max/ iPhone XS/ XS Max/ XR/ X/ 8 Plus/ 8/ 7/ 7 Plus/ 6/ iPad Pro 2021/ iPad Pro 12.9/ iPad Pro 10.5/ iPad Pro 11/ iPad mini/ iPad Air, MacBook Air 13''(2018)/MacBook 12''/ MacBook Pro 13''/MacBook Pro 15'', Samsung Galaxy S21/ S20/ Note 20/ S10/.
What You Get: 6000mAh CyberPowerBank, an instruction manual, our worry-free 12-month warranty, and friendly customer service (support@cyberbackpack.com).
How do I set up my passcode?
1. Make sure the passcode is set to 000.
2. With a pin or ballpoint of a pen, press and hold down the small button on the far side of the combination lock.
3. With the button pressed down, reset the passcode to your desired code.
4. Release the button and it should spring back in position.
5. Slide the TSA007 lever to unlock.
Does the Cyberbackpack come with a powerbank?
Yes.
You can also purchase an additional (or replacement) Cyberpowerbank separately for your Cyberbackpack. Cyberbackpack also comes with passthrough cables on the inside that allow you to connect your Cyberpowerbank (or own power bank) on the inside of the backpack. This will allow you to plug in your devices on the outside through the charging ports provided and power them up.

*Powerbanks are an optional purchase and need to be added before checkout unless otherwise indicated.
What is your return policy?
You have 30 days after your item is shipped to initiate a return through support@cyberbackpack.com. All returns MUST be in 100% new condition, unused with all the original wrappings and tags in place. Shipping charges are non-refundable.
How do pre-orders work?
As we all know, good things take time! We really appreciate your patience and promise that it's worth the wait. If the item you wish to purchase is for pre-order only, the estimated delivery time will be displayed in the product description section before you add the product cart.
What should I know about your discounted items?
Discounted and sale prices are offered on marked and in-stock items only during that particular sale period and only on the products advertised in that particular sale. We will not refund the sale discount amount on any previous purchases. Sale prices are available whilst inventory permits only. All items marked as final sale are not eligible for any refund or exchange on that particular product. Once it's yours, it's yours! Your order will be shipped when items in your order, including any preorder items, become available to ship.
For all other questions
Get the answers to all other questions in our knowledge base here!
Airline Approved Carry-On Size
The dimensions of the Cyberluggage are carefully designed to meet the needs of travelers, ensuring that it is able to fit in the overhead compartments of most airplanes as carry-on luggage and be easily stored in hotel rooms.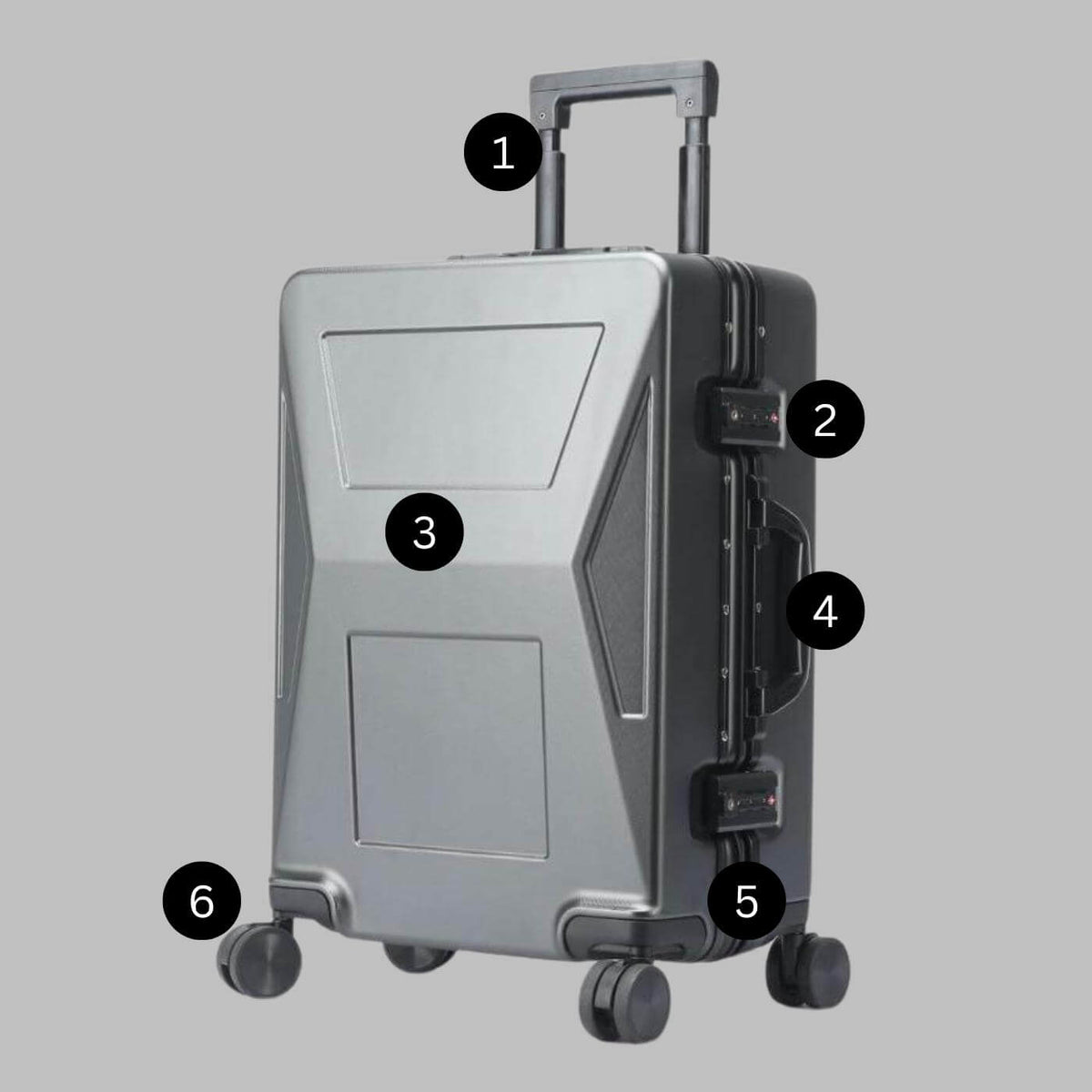 Features Made For Professionals
1. Aviation-grade telescope handle
The aluminum telescoping handle allows for easy and comfortable maneuvering of the luggage.
2. Zipperless Entry w/ Two-factor security
The dual TSA-approved passcode lock provides added security for your belongings. You can set a different code for each lock making it virtually impossible to decipher. Also, the zipperless design eliminates the possibility of both accidental and intentional rips and tears.
3. Water-resistant hardshell
The luggage is made of lightweight 100% polycarbonate, making it extremely durable, easier to carry, and water resistant.
4. Hold me tight and never let go
The comfort grip top and side handles provide a comfortable and secure grip while carrying the luggage.
5. Look Ma, no zippers
No zippers make it extremely difficult for anyone to access your belongings without your passcode.
6. Super silent ninja wheels
Smooth and silent wheels that glide across carpets, concrete, and uneven floors. The 8-wheel 360-degree spinner system allows for smooth and effortless movement in any direction.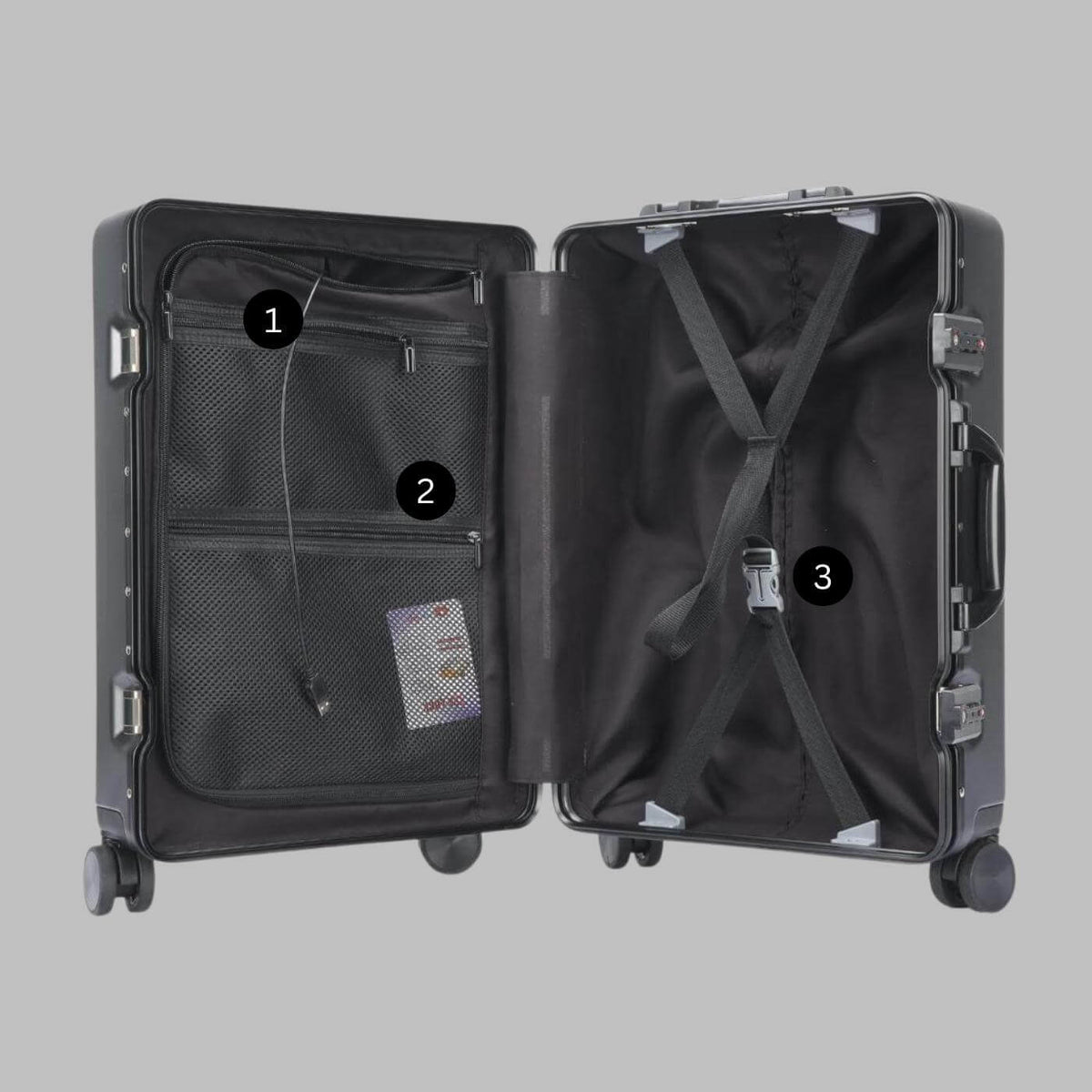 Large capacity and organization
1. Charge on-the-go
The USB-A&C connectors allow you to charge on the go.
2. Mesh pocket
The zippered accessories pocket provides a convenient place to store small items and keep them organized.
3. Strap it like it's hot
The adjustable compression straps help to keep your belongings securely in place and maximize the available packing space.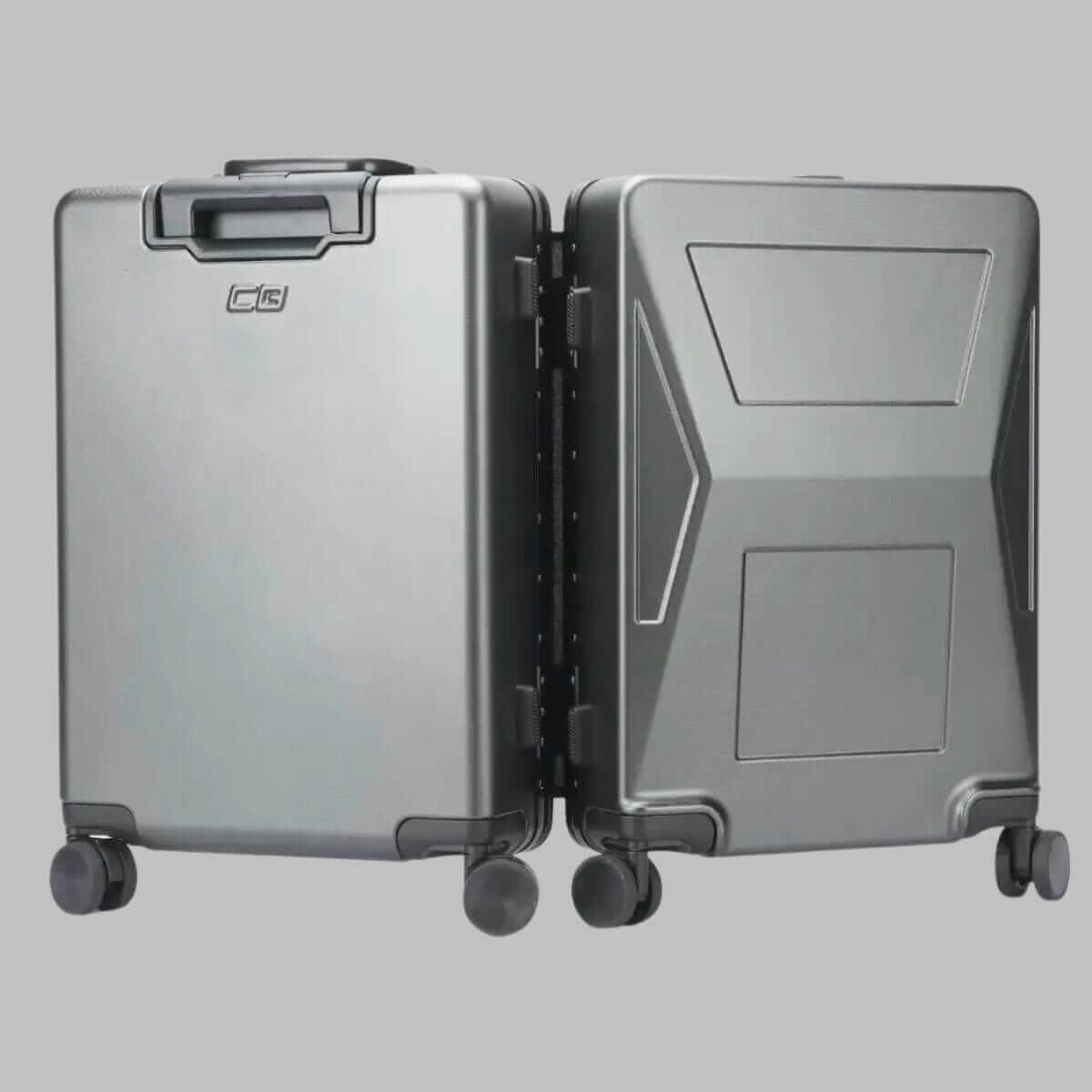 BENDS WITHOUT BREAKING
Unlike ordinary luggage, Cyberluggage is engineered to bend under pressure without succumbing to damage. With our innovative construction, rest assured that your belongings remain impeccably protected, even in the face of unexpected impacts or mishandling.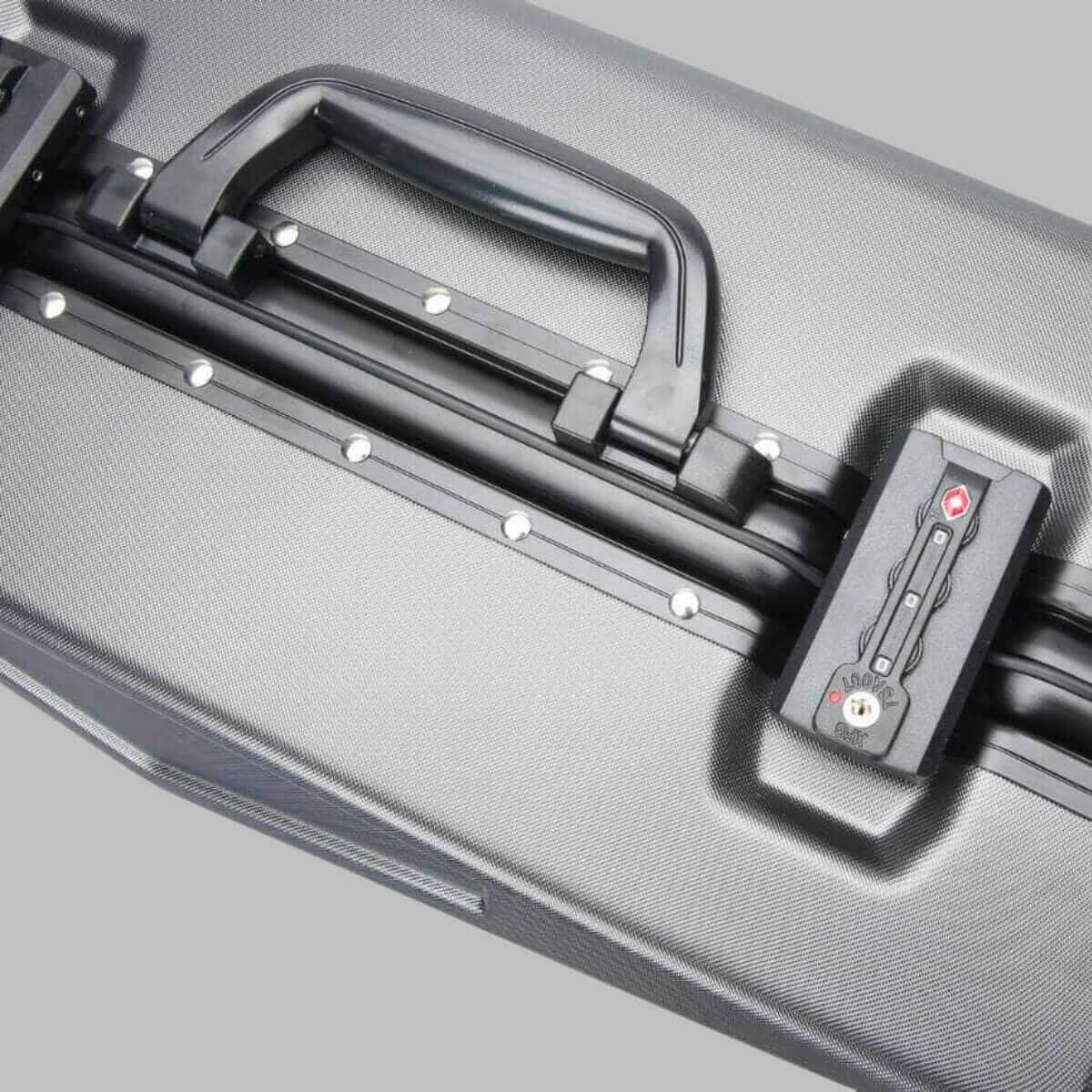 TSA-APPROVED SECURITY
Effortlessly breeze through security checks with our integrated TSA-approved passcode lock. Safeguard your belongings while complying with airport regulations, all without compromising on convenience. Travel with confidence, knowing your items are secure and accessible only to you.
Never Run Out Of Charge
Experience the freedom of uninterrupted power. CyberLuggage features a high-capacity lithium-ion battery that delivers swift and efficient charging to your devices. Whether it's smartphones, tablets, or other USB-powered gadgets, our power bank ensures your devices stay powered for longer, keeping you connected throughout your adventures.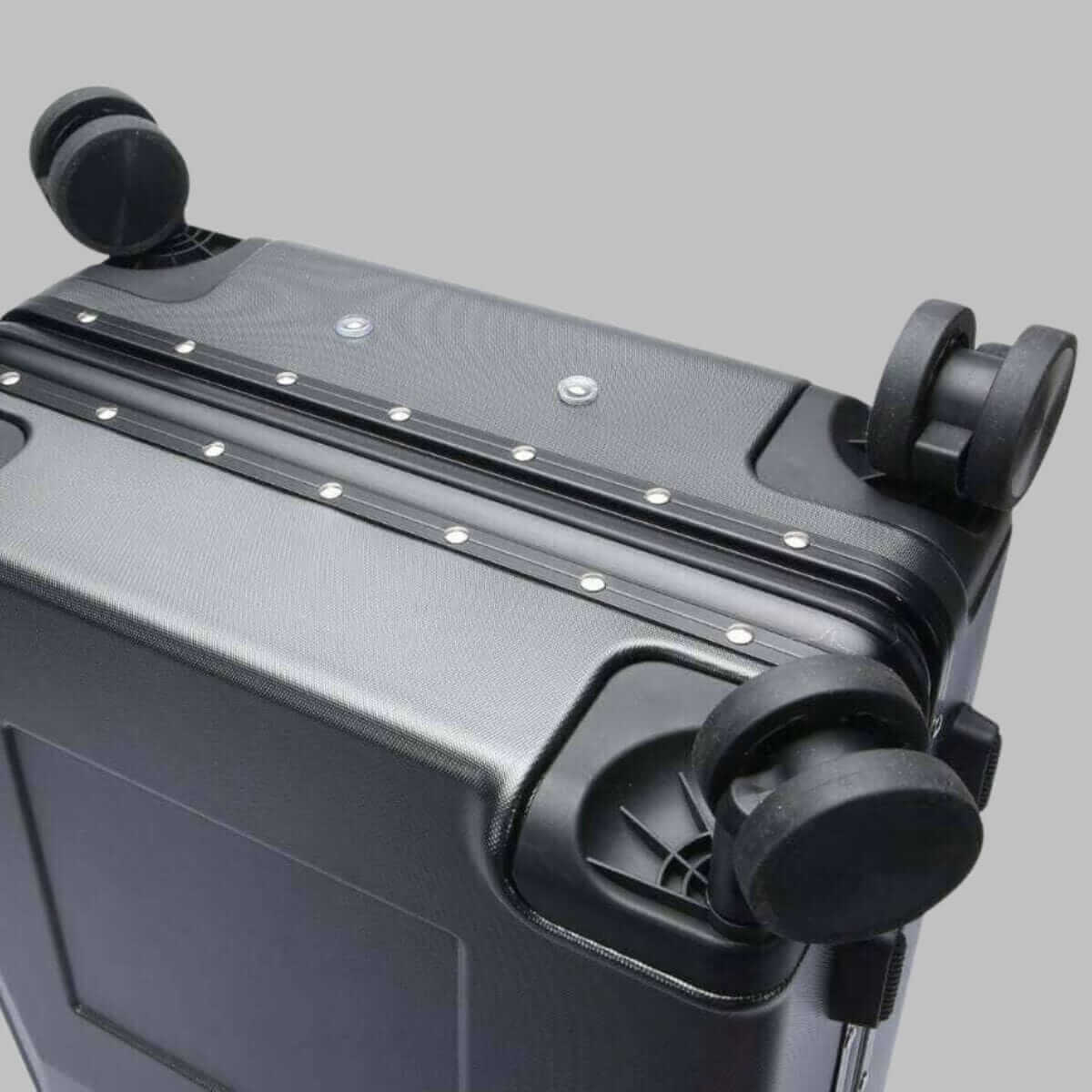 SEAMLESS 360° MANEUVERABILITY
Move with grace and precision as CyberGlide's advanced 360° Silent Glide wheels effortlessly glide in any direction. No more struggling to steer your luggage or dealing with awkward turns. With our innovative wheel system, you'll effortlessly navigate through crowded airports, bustling streets, and any terrain with unparalleled ease.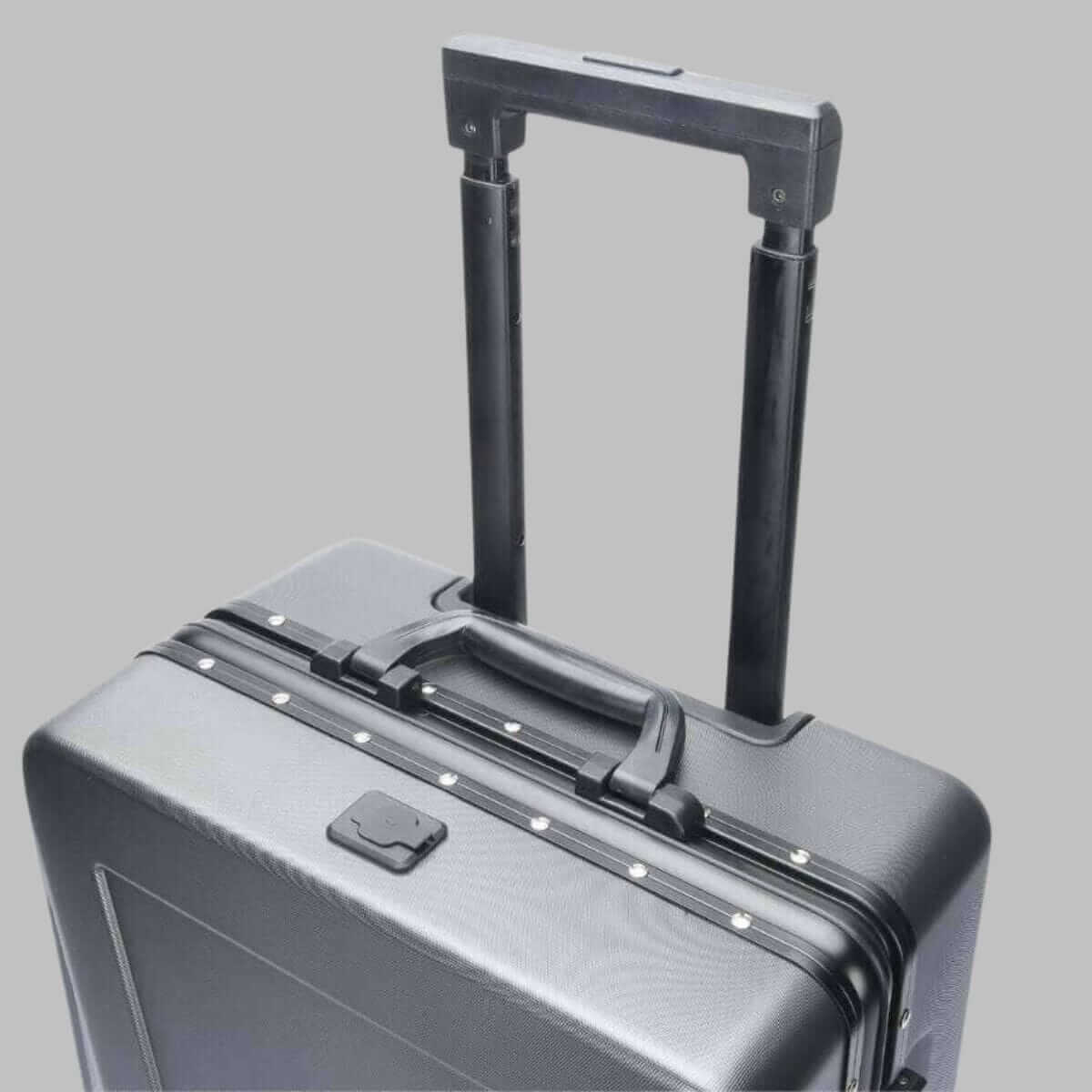 ADJUSTABLE HEIGHT FOR PERSONALIZED COMFORT
Say goodbye to uncomfortable, fixed-height handles. The CyberLuggage handle offers three stages of telescoping adjustability, allowing you to customize the handle height to your preferred position. Achieve the perfect ergonomic fit, reducing strain on your arms and wrists, and enjoy unparalleled comfort as you navigate your way through any travel scenario.
QUICK-ACCESS PACKING & UNPACKING
The ultimate solution for easy organization and stress-free packing. Designed with the modern traveler in mind, our innovative features and thoughtfully crafted compartments ensure that your belongings are neatly arranged, easily accessible, and impeccably organized.
The carbon fiber hardshell provides peace of mind knowing your belongings are well-protected.
The USB charging port and power bank allow you to stay connected and powered up on-the-go.
The TSA-Approved passcode lock adds an extra layer of security for your valuables.
Built-in battery allows you to charge your devices on the go
Durable, hard-shell exterior protects your belongings
Sleek, futuristic design
Perfect for the tech-savvy traveler
Can help reduce stress and anxiety while traveling, knowing your belongings are secure and accessible
Can help you stay organized and efficient while on the go
Can help you make a statement and stand out from other travelers with its unique design.
The tech organization features allow for easy and organized storage of all your tech gadgets.
The waterproof design protects your belongings from water damage.
The cut-resistant material provides added security against potential theft.
The iconic modern stylish design adds a touch of sophistication and fashion to your outfit.
The durable and water-resistant design ensures your belongings are well-protected in any weather.
The lightweight design makes it easy to carry around without feeling weighed down.
The aluminum telescoping handle allows for easy and comfortable maneuvering of the luggage.
The luggage is made of lightweight 100% polycarbonate, making it easier to carry and transport.
The comfort grip top and side handles provide a comfortable and secure grip while carrying the luggage.
The 8-wheel 360 degree spinner system allows for smooth and effortless movement in any direction.
The zippered accessories pockets provide a convenient place to store small items and keep them organized.
The adjustable compression straps help to keep your belongings securely in place and maximize the available packing space.
Didn't receive what I wanted and nobody will care for my requests at all.
Poor customer service, sorry 😞
Everything is wonderful except for charging the battery while in the bag. Have to take it out to charge.
Great and Convenient Design
I was very satisfied with this purchase; this backpack provided every feature I was looking for. It's waterproof / resistant and it has an awesome storage compartment for clothes, and a separate one for my laptop. I needed a backpack that had a security feature and this product provided it in a way that makes sense. I have had it for about 3 months now and it has held up well. I highly recommend.
Introducing the Cyberluggage - Your Ultimate Anti-Theft Roller Luggage for Stylish and Secure Travel
When you travel, it's important to have the right bags, and Cyberluggage is here to change the way you travel. Cyberluggage is the best choice for travelers who want both style and safety. It was made with current travelers in mind. Cyberluggage is the perfect journey partner for your next trip in your Tesla Cybertruck. It looks sleek, has advanced security features, and is small enough to carry on.

Cyberluggage is the right size for traveling without a lot of trouble. It is 20 inches long without the wheel and 21.4 inches long with the wheel. This meets the carry-on size requirements of most flights, so you don't have to pay for checked bags or wait at the luggage carousel. Even though Cyberluggage is small, it is made to make the most of the space it has, giving you plenty of room for your things while still fitting easily in the overhead section.

Cyberluggage's cutting-edge protection technology is one of the things that makes it stand out. Cyberluggage is made of strong materials and has hidden bags and zippers that can be locked to keep your things safe from thieves and other unwanted people. You can travel without worrying about your valuables because they will be safe and secure the whole time.

But Cyberluggage isn't just about safety; it's also about making things easier. Cyberluggage is easy to move through airports, train stops, and hotels because it has smooth-rolling wheels, a handle that can be stretched out, and soft grips. Cyberluggage is easy to use and takes the stress out of traveling, so you can enjoy your trip to the best.

Cyberluggage has features that make it safe and easy to use, and it also looks sleek and modern. With its modern, simple look, Cyberluggage lets you show off your own style while you're on the go. Stand out with this high-quality, eye-catching roller luggage that goes well with your Cybertruck and shows off your style.

Cyberluggage is the best when it comes to anti-theft roller luggage. Cyberluggage is the best choice for regular travelers, business travelers, and anyone who cares about both style and safety. It is stylish, safe, and easy to use all at the same time. With Cyberluggage by your side, you can journey with confidence and style, making your next trip an adventure you'll never forget. Cyberluggage is the best choice for Tesla Cybertruck fans who want to step up their trip game.